Cocoa butter (or Cacao butter) is a natural and versatile ingredient that offers many skin care benefits, as well as nutritional ones. It's also been found to have antioxidant qualities, which can help protect your skin from harmful environmental toxins and pollutants. 
Studies have also shown cocoa butter has anti-inflammatory effects on the body meaning it may be able to reduce redness in some skin conditions such as eczema.
So, it's no surprise that cocoa butter has become an essential part of our skin care ranges in soaps, face & body creams and lotions! In this article, we'll cover what you need to know about cocoa butter (and cocoa powder) and what it can do for your skin.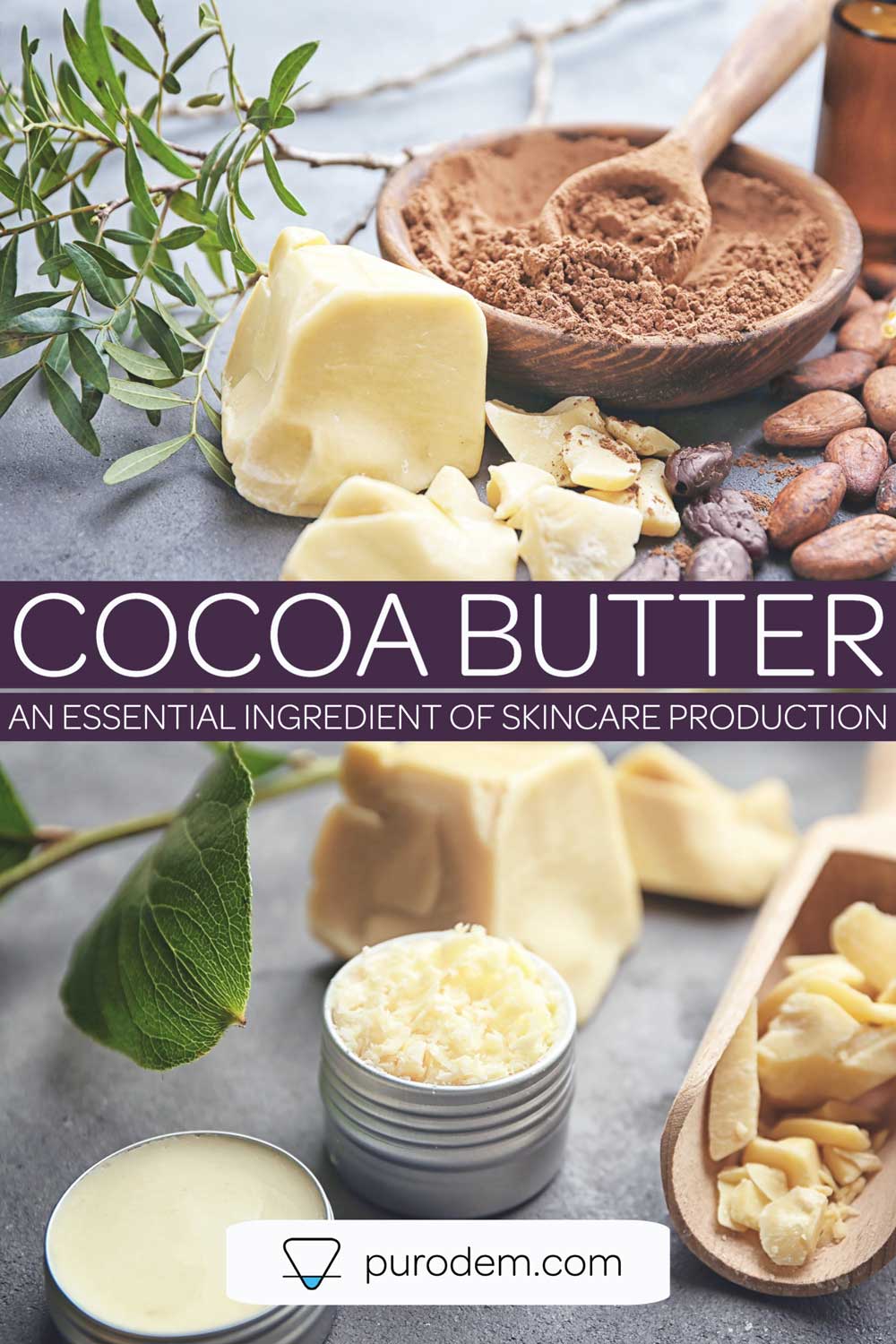 Where does cocoa butter come from?
Cocoa trees (Theobroma cacoa) are indigenous to Central and South America, where they were cultivated by Mesoamerican civilisations as early as 1500 BC. The tree has a rich history that spans time all the way from when it was consumed in ancient times up until now; Cocoa is one of the most important perennial crops on Earth for two reasons: its importance both economically (for chocolate) and cosmetically (in beauty products.)
The cocoa tree is a small, delicate plant that begins as an ordinary-looking seedling, which grows in tropical areas of high temperature and rainfall. When it reaches maturity the cocoa pods will grow to be about four feet in length and produce between fifty to one hundred seeds (beans) each time they are pollinated, before being harvested by hand or machine, from which cocoa butter is extracted by dry-pressing, fermentation, and roasting. The seeds are roasted then hulled, which removes the hard outer shell to reveal what is known as "cocoa nibs" a great topping to cereals and desserts!
Cocoa butter is one of the most expensive plant-based fats in the world. Annual global cocoa production was estimated to be more than 4 million tons in 2020, with demand slightly down from the previous year due to the Covid-19 pandemic, and its global demand is expected to increase annually by 2-3%.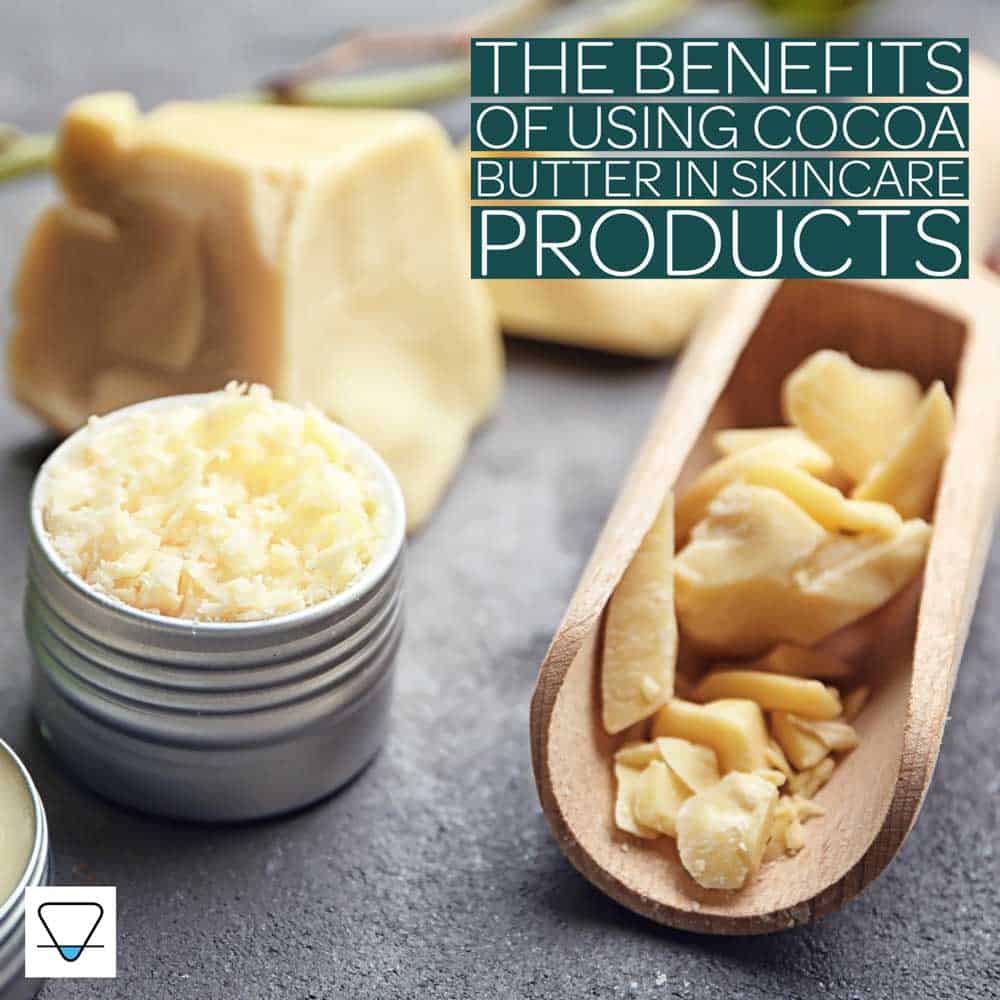 What are the benefits of using cocoa butter during skincare production?
Cocoa butter (INCI: Theobroma cacao Seed Butter) is derived from the cocoa seed, and is a commonly used ingredient in skincare products. Cocoa butter is an easily absorbed, luxurious ingredient, which provides high levels of moisturization and conditioning to the skin, making it excellent for dry skin types. Working as an emollient, it softens and soothes the skin, and also improves skin elasticity by helping it to retain moisture in the upper layers of cells.
Known both for its nourishing & thickening properties it is often used in skin care products such as cream emulsions, moisturizers, lip balms, soaps, and hair products such as shampoo/conditioners. It has a lovely, soft texture when used in topical applications on the skin, and it also locks in moisture by forming a protective barrier over the skin, making this an ideal ingredient for use on those with dry patches or as a moisturiser during colder months of the year – lip-balm product formulations in particular!
The use of cocoa butter has also been shown in many research studies to have significant protective effects for the natural elasticity, hydration and appearance of aged skin, partly due to its antioxidant properties. It also contains a high proportion of both essential fatty acids (EFA's) oleic acid and stearic acid; fats that our skin uses to keep it healthy. It is often used to smooth the appearance of scars, stretch marks, or any areas of very dry chapped skin that is in need of a boost.
Cocoa butter is rich in nutrients and antioxidants which help protect the skin from environmental damage. It also contains natural plant compounds called phytochemicals, which may help condition the skin and can be helpful in protecting against damage from the sun's harmful UV rays.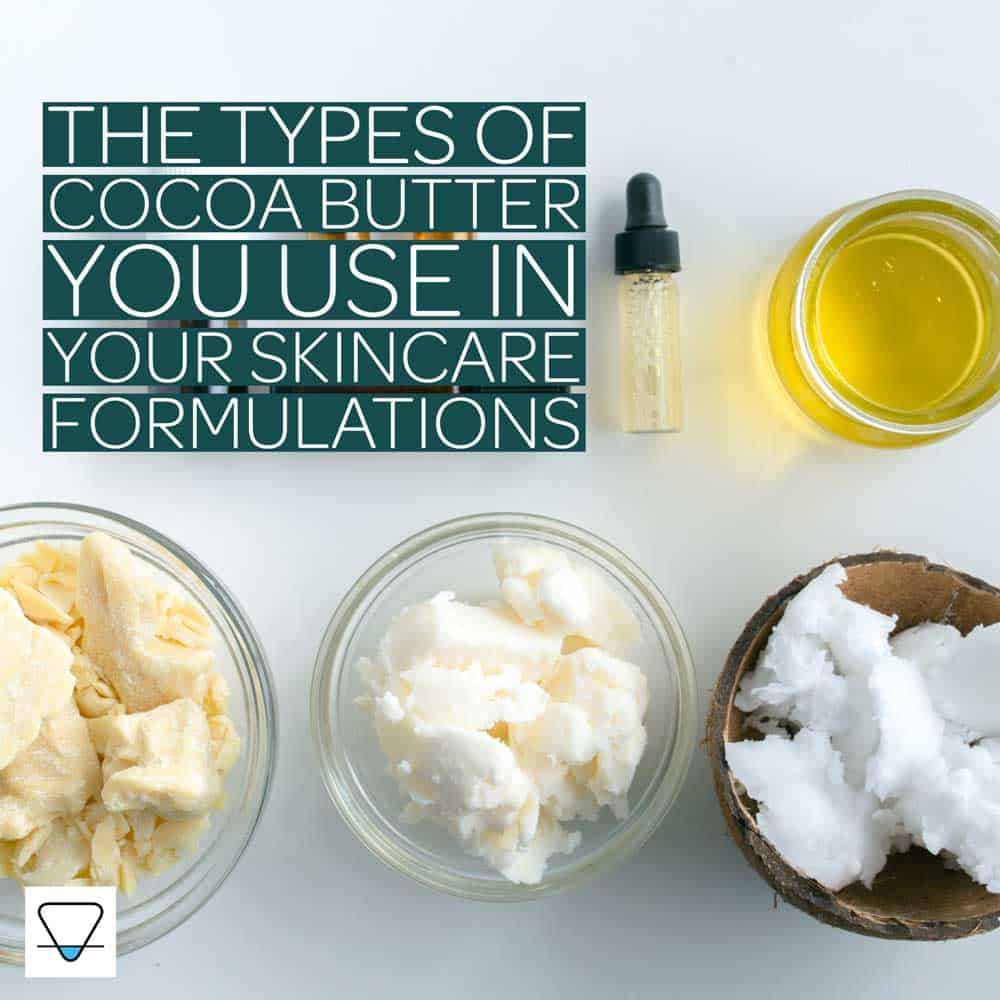 What type of cocoa butter should I use in my skincare formulations?
When choosing the type of cocoa butter you will use in your skin care formulations, it's important to understand the differences between unrefined and refined cocoa butter:
Refined cocoa butter (deodorised cocoa butter)
Refined cocoa butter is produced from raw cocoa beans that are highly processed, purified, and chemically deodorised which can result in a pale, yellow like colour. It typically has a longer shelf life than unrefined cocoa butter and is a very stable emollient ingredient that works well combined with other ingredients in your cosmetic skin care formulations. Due to its odourless nature it is perfect for use in skin care products where fragrance will also be added to the formulation.
However, due to the manufacturing process refined cocoa butter can have fewer antioxidant qualities than unrefined cocoa butter, as many of its phytochemicals are lost through processing.
Unrefined cocoa butter (non-deodorised cocoa butter)
Unrefined cocoa butter is produced from raw cocoa beans that have not been processed and deodorized, resulting in a naturally darker colour with a chocolate aroma. This makes it perfect for use in skin care products such as all-over body creams and lotions, where its rich, chocolatey fragrance is required. It also has better nutritional qualities than refined cocoa butter, with none of the beneficial properties of the product having being lost through processing.
However, its chocolate-like aroma (which although smells fantastic) may not be suitable in skin care products where fragrance will also be added to the formulation, such as essential oils. In this instance, refined butter might be more suitable, which will have undergone a process to deodorise the butter. Depending on the quality of the butter you are using, stability can also be a concern, as the chemical structures may not be as stable as the ones in refined cocoa butter. Also its shelf life may not be as long, and so over time its phytochemicals that make it beneficial for use may become inactive.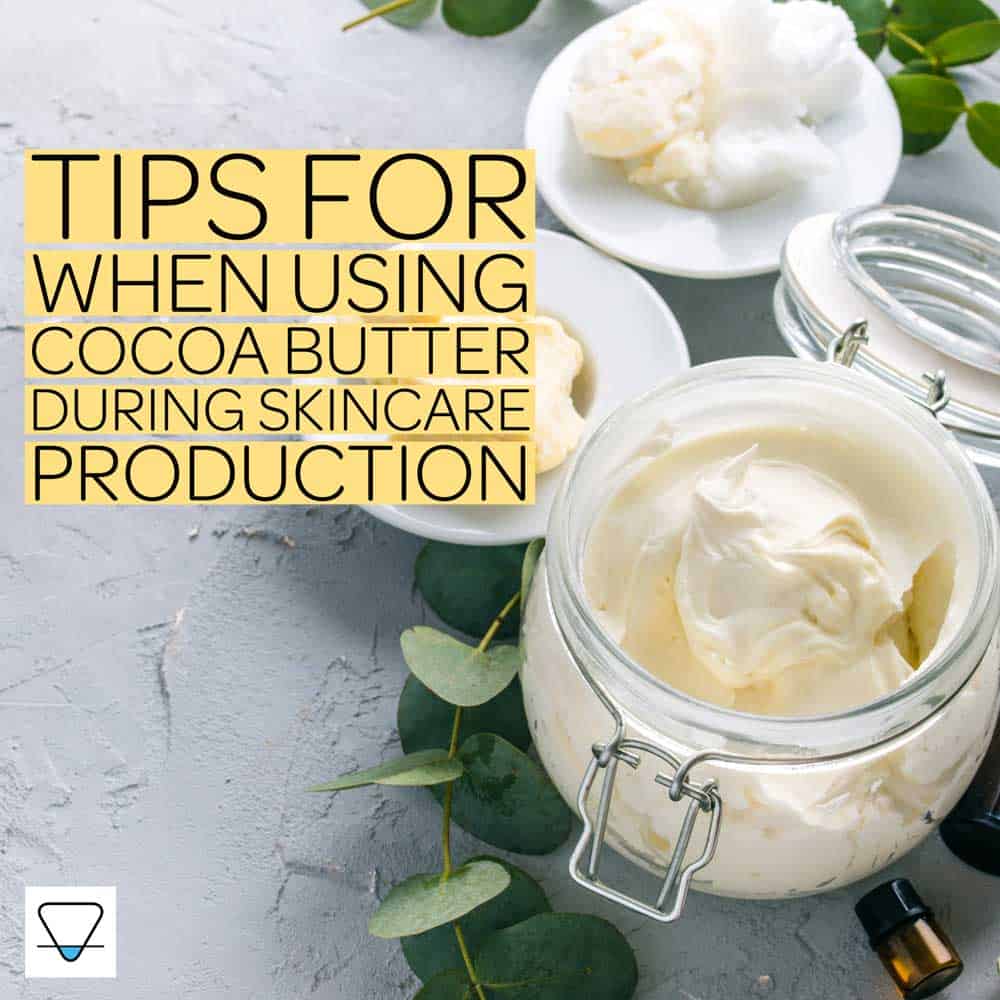 Tips for when using cocoa butter during skincare formulation
Cocoa butter is a very stable fat, high in antioxidants, that helps prevent rancidity. It has a shelf life of up to 2 years when stored correctly in a cool, dry area.
Some cocoa butter can have a low melting point of approximately 34-38 degrees Celsius (body temperature.) It remains solid at room temperature.
Cocoa butter is soluble in oil, and added to Stage 1 of your production phase.
Make sure to choose carefully either deodorised, or non-deodorised cocoa butter depending on the product you are making, as non-deodorised cocoa butter's chocolate-like aroma might not be appropriate in the skin cream or skincare product that you are formulating. In this case refined cocoa butter might be a more suitable alternative.
Unrefined cocoa butter has a higher nutrient content than refined cocoa butter due to its lack of processing, so depending on the skincare product you are making this is also worth bearing in mind at the formulation stage.
It is a versatile ingredient that can be mixed with other vegetable oils and butters, such as shea butter or coconut oil to create a range of intensive oil rich body moisturizers.
One of the most common ways that cocoa butter is used in skincare formulations is to provide an occlusive barrier in an ointment, mask or balm as it is insoluble in water. The fat in cocoa butter forms a protective barrier over skin to hold in moisture. This will also help keep water out and protect the skin as well as provide some occlusion which can be helpful for dry patches.
Cocoa butter alternatives
Unfortunately, in recent years due to increased demand for cocoa butter skincare products manufacturers are being forced to find alternatives. Some possible ingredients that work well with producing moisturising effects similar to those of cocoa butter include shea butter, olive and avocado butters, and also jojoba or sunflower oil. All of which have high levels of essential fatty acids and naturally occurring vitamins.
Which is better, shea butter or cocoa butter?
Shea butter is often used as an alternative to cocoa butter, especially for eczema prone skin type types. It is high in plant sterols which help repair damaged skin.
Both have their benefits when used in cosmetic skincare formulations. Please read our article on Shea Butter to find out its benefits.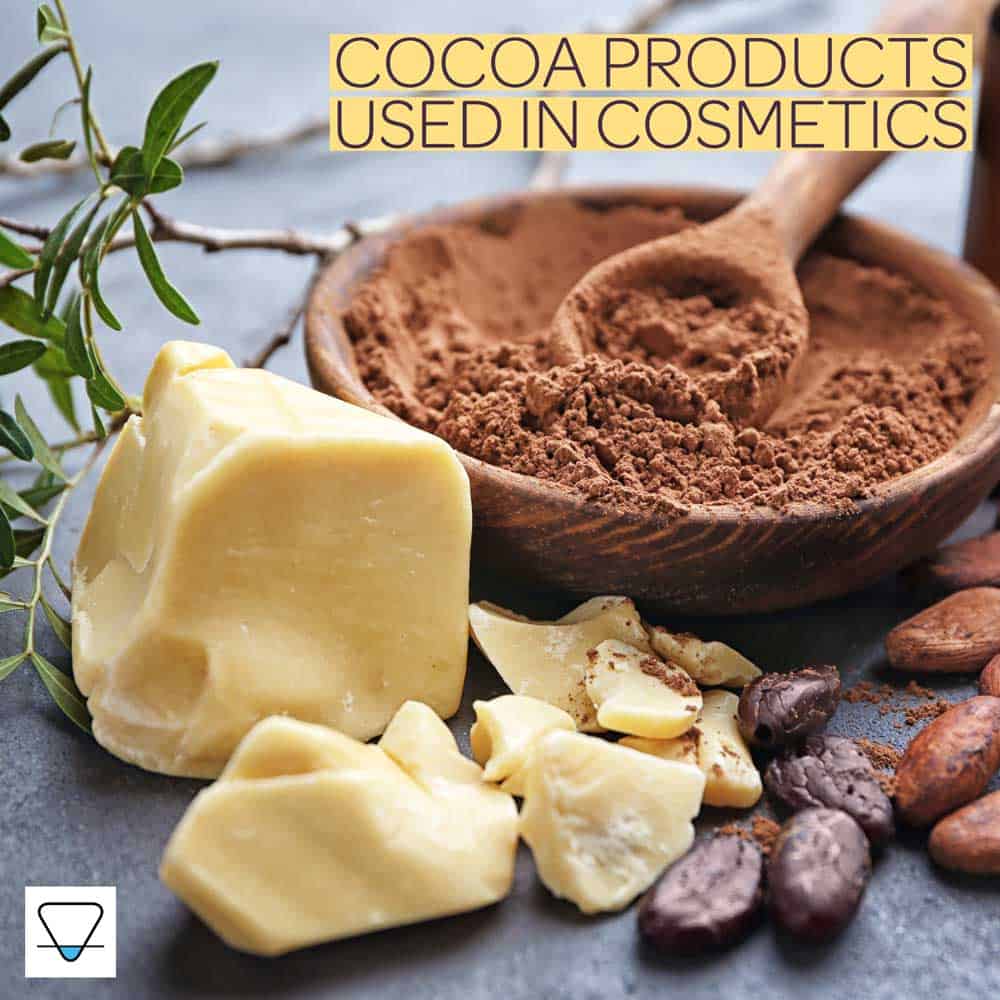 Other cocoa products used in cosmetics
Cocoa butter is just one of a number of cocoa products that can be found in skincare formulations:
Cocoa powder (INCI: Theobroma cacao Seed Powder) is made from roasted and ground cocoa seeds. Already well known as a super-food, found in health food shops due to its high level of minerals, vitamins and antioxidants, cocoa powder is the perfect ingredient to use in face and body cleansers and masks because of its ability to clear, soften and detox your skin. Cocoa powder has a high polyphenol content and so it can also increase the skins elasticity which can help slow the signs ageing skin.
It is available in two different varieties: natural cocoa and 'Dutch' process cocoa – a process of alkalization. We would advise the use the natural cocoa powder in your skincare formulations as it is non-processed, retaining high mineral and antioxidant content.
Cocoa absolute is a fragrant component of cocoa. It is solvently extracted from cocoa beans, which are mashed and fermented before being extracted. This absolute is valuable for its intense fragrance and gives an aroma of comfort to therapeutic formulations.
It's usually used to add fragrance and flavour to skincare products like lotions, balms, bath preparations, shampoos and conditioners. It has a rich complex cocoa aroma with a distinct hint of sweetness.
General safety information for when using cocoa butter
Cocoa butter is generally considered a 'safe' skincare ingredient, but it can be unsuitable for certain skin types such as skin that is very oily or prone breakouts.
Cocoa is much more than just a raw ingredient used in delicious chocolate. It's also an essential component of some of the best and most effective skin care products on the market today, thanks to its anti-inflammatory properties. If your skincare routine could use a boost or if you're looking for something new to try, consider adding cocoa butter into your daily regime! You may find that it helps nourish dry skin while helping to give you the soft, supple, healthy looking complexion you've always wanted.
Remember – when shopping online for ingredients, to purchase from a reputable source to avoid getting duped by less expensive imitation items made with vegetable oils instead of real cocoa butter. Please contact us if you require recommendations.
How will you using cocoa butter in your cosmetic skincare formulations? Please get in touch to let us know!
Our website content is for advertisement, informational and educational purposes only. Purodem does not provide medical advice, diagnosis or treatment. Professional advice should always be sought before using essential oils.