Eucalyptus oil is an aromatic, natural plant extract that has been used in traditional medicine for centuries as a potent disinfectant, and antiseptic, as well as for some pain relief. Eucalyptus essential oil is derived from the leaves of the eucalyptus tree, and is a cleansing, purifying and revitalising ingredient commonly used in aromatherapy, cosmetic beauty products, and in traditional medicinal products by the wellness and pharmaceutical industries.
It has a fresh, invigorating and uplifting aroma that can be used to help relieve stress, combat fatigue, and promote a sense of well-being.
In this article, we will explore the history of eucalyptus oil, the different species of eucalyptus trees that produce the essential oil, as well as its different applications and various health benefits.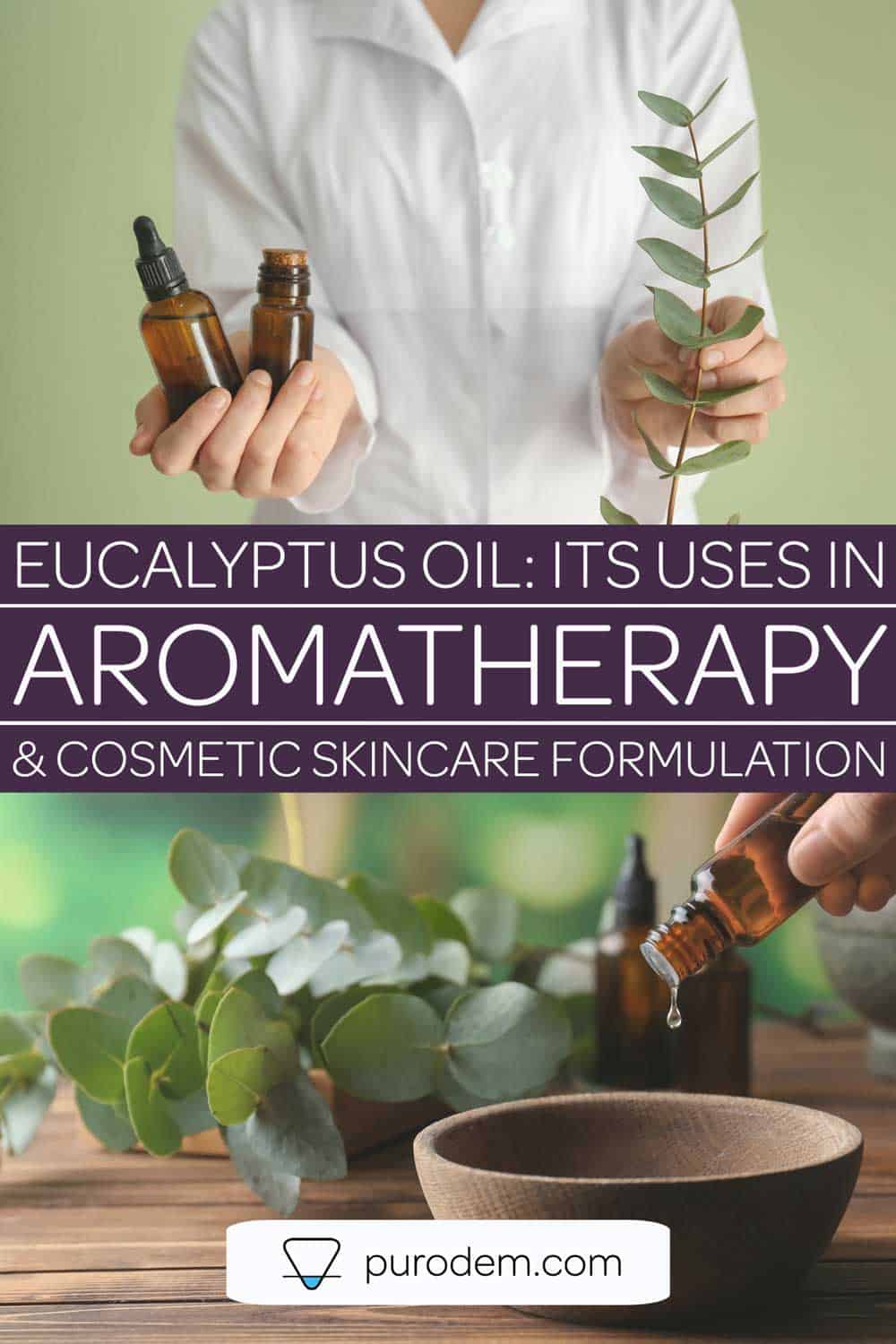 The origins of Eucalyptus oil
The eucalyptus tree is native to Australia and has a long history in the area. As far back as 1770, aboriginal tribes used it for medicinal purposes such as treating cuts or wounds due to the antimicrobial agents in the tree's oil.
Eucalyptus oil is taken from many different varieties of eucalyptus tree. The eucalyptus extract of the different species of trees have different levels of the chemical compound 1,8-cineole (Eucalyptol) which make them each uniquely suited to different and particular applications.
The essential oil can now be distilled from eucalyptus trees grown in various regions of the world including Australia, South America, Africa and India. Eucalyptus oil quality can also vary depending on where it originates from geographically.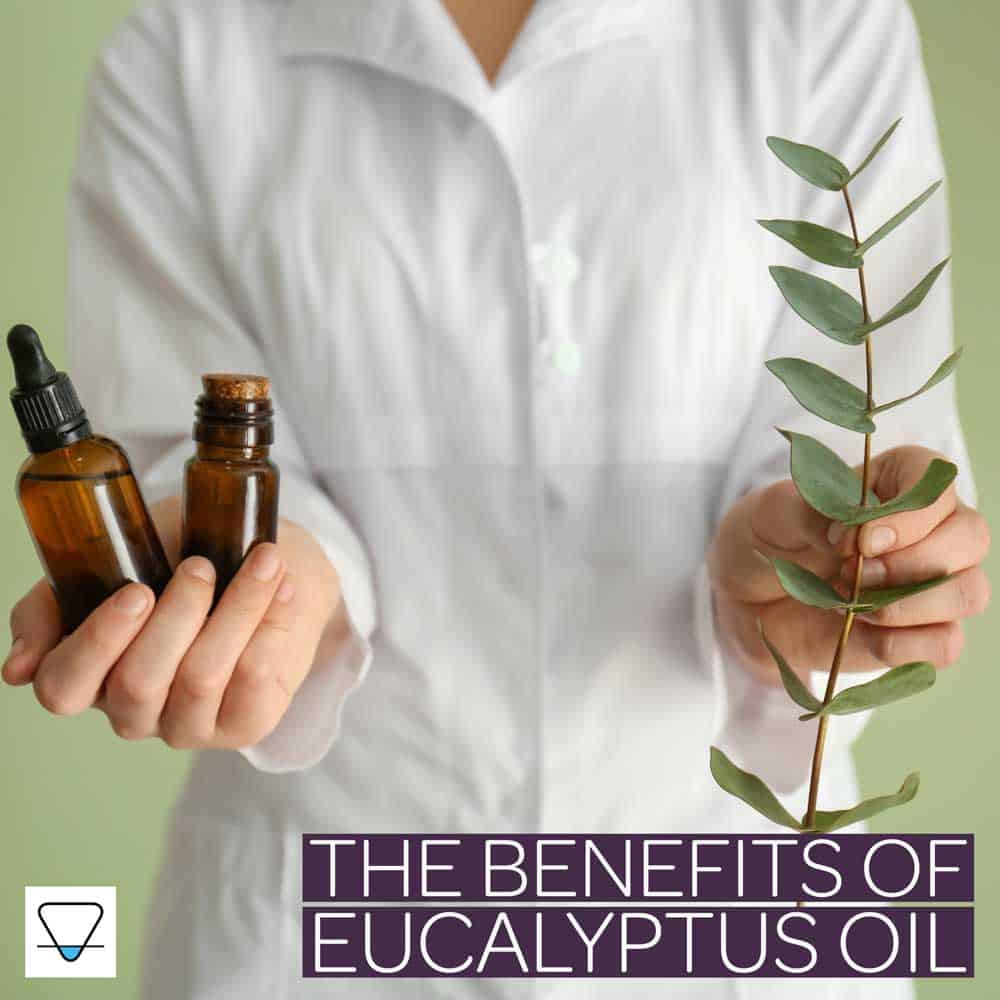 The benefits of using Eucalyptus oil
Generally known for antiseptic, antibacterial, antiviral, anti-inflammatory and analgesic properties, the benefits of eucalyptus oil are diverse:
Eucalyptus oil is most commonly used in aromatherapy, as it has a number of naturally occuring healing qualities. It can be mixed with a carrier oil, and used during massage to awaken the senses. The oil may be vaporised into steam – the inhalation process also aids the clearing of the senses and can help to naturally relieve sinus congestion following common respiratory illness.
Other health benefits are attributed to using eucalyptus; it is also known for its ability to aid a sense of mental clarity and focus which can be helpful if feeling stressed or overwhelmed. This can be especially beneficial for those who suffer from anxiety-related disorders such as generalised anxiety disorder, panic attacks, obsessive compulsive disorder (OCD), or post traumatic stress disorder (PTSD.)
Uses in cosmetic skincare formulations
Eucalyptus oil is used in the beauty industry because it has a number of benefits for the skin, and can be found in many cosmetic skincare products; soaps, cleansers, hair products, ointments, bath bombs, and body oils just to name a few applications for its use.
The oil draws out impurities in the pores, which helps with preventing breakouts and for treating acne-prone skins and helping to maintain a healthy complexion. It has antibacterial and anti-viral actions that can help with skin maintenance heal outbreaks and prevent bacteria from spreading.
Eucalyptus oils are used extensively in the health and pharmaceutic industries, in many 'over-the-counter' home treatments, and after-sport muscle ointments, rubs and sprays used for pain relief. It is also used as a very effective natural bug and insect repellent.
In dental health, Eucalyptus is used in formulations to help contribute to better oral hygiene. It has been found to fight bacteria that causes tooth decay and periodontitis, leading to its use in mouthwash, and other dental preparations. According to a study published in the Journal of Periodontology, the use of eucalyptus extract in chewing gum may also promote periodontal health.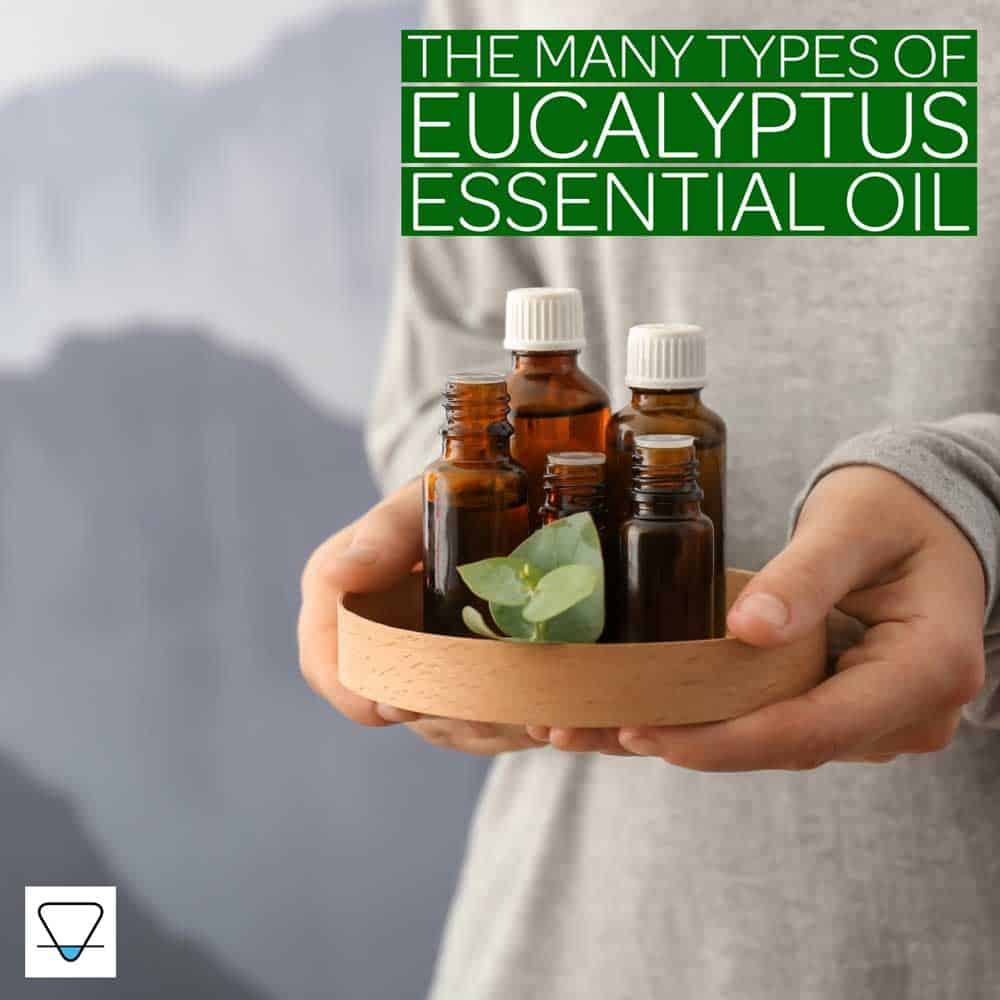 The different types of Eucalyptus essential oil
Eucalyptus oil globulus is the most commonly available and widely used of the different species of Eucalyptus essential oils available. Predominantly used in the pharmaceutical industry, it is used as an antiseptic, decongestant and expectorant. It has long been known to have a number of therapeutic benefits including helping to ease the symptoms of colds, flu, congestion and fever.
Eucalyptus globulus has a high level of 1,8-cineole of approx 70% depending on the quality and source of the oil. 1,8-cineole (also known as Eucalyptol) is also an expectorant that helps removes excess mucus in the respiratory tract, helping to clear chest congestion. This also makes it ideal for use in aromatherapy (where it can be vaporised into steam) because of its ability to ease recovery from conditions such as bronchitis and sinusitis.
Due to high levels of 1,8-cineole (Eucalyptol) found in Eucalyptus oil globulus, it has a strong medicinal aroma similar to menthol, or camphor.
Eucalyptus citriodora (lemon Eucalyptus)
Eucalyptus oil citriodora is derived from the leaves and twigs of the Eucalyptus citriodora tree native to Australia. It is also known as lemon-scented gum, spotted gum, or simply – Lemon Eucalyptus.
Eucalyptus oil citriodora has a much lower 1,8-cineole content (of approx 2%) than Eucalyptus oil globulus and as a result does not have the same distinct scent. Instead, it possesses a fresh and uplifting lemon citrus aroma because of its high levels of citronella, which also gives it its antimicrobial properties.
Eucalyptus oil citriodora is known to be an effective antioxidant, anti-inflammatory and analgesic. It is very effective in easing the symptoms of the common cold, flu, asthma and or sinusitis, and the oil may help to ease symptoms associated with allergies due to its soothing effect on the respiratory system.
A few drops of Eucalyptus citriodora essential oils are commonly used to add fragrance to cosmetics, personal care products and alternative medicines, and is also a very effective natural insect repellent which can be used against most bugs including mosquitoes, fleas, flies and ticks
This essential oil is used in aromatherapy as a disinfectant. It can be combined with other oils such as thyme or lavender for its therapeutic properties. As with most essential oils it is not recommended to apply directly on to the skin due to its high level of citronellal that can irritate some skin types.
Eucalyptus oil radiata comes from the leaves of the Eucalyptus tree. It is a fragrant essential oil that can be used in aromatherapy, and has many benefits for skincare, including treating acne, boosting circulation and helping to remove toxins from the body.
Eucalyptus oil radiata is very similar to Eucalyptus oil globulus, however, due to its generally lower 1,8-cineole (at approx 65%) content, it can have a softer aroma than Eucalyptus globulous, resulting in sweeter aroma making it more suited to anyone who prefers a gentle Eucalyptus scent.
Like its close family member Eucalyptus globulus, Eucalyptus radiata has shown to be very useful in the soothing of respiratory infections such as asthma, bronchitis and sinusitis.
For use in aromatherapy, it is effective for helping you to relax and relieve stress, as well as uplifting your mood on a dull day; a great oil to help energise and regain focus.
Eucalyptus radiata essential oils are commonly used in skincare due to its anti-inflammatory and anti-bacterial properties which can help to sooth acne prone and congested skin.
It also works well as an analgesic and is found in many muscle balms, gels and pain relief ointments.
Also known as Eucalyptus Blue Mallee, Eucalyptus Mallee, and Blue Gum. Eucalyptus oil polybractea contains the highest amount of 1,8-cineole (at approx 90%) of the different species, which gives it an intense, fresh, medicinal aroma which is similar but stronger to that of Eucalyptus globulous.
Used particularly in the pharmaceutical industry, it has been found to be effective (similarly to that of E.globulus & E.radiata) at relieving respiratory complaints, working as a decongestant and anti-inflammatory.
Eucalyptus oil dives is a powerful eucalyptus oil, with antiseptic and pain-relieving qualities. Commonly referred to as Peppermint Eucalyptus, or Blue Peppermint, Eucalyptus dives has a complex cool, crispy aroma, with strong peppermint tones.
Similarly to its other Eucalyptus family members, it is commonly used in cosmetic beauty products, such as cleansers, soaps, and moisturisers, due to its antimicrobial and anti-inflammatory properties; it is said to be good at soothing irritation, and reducing redness.
Of all of the Eucalyptus species outlined, it has the lowest amount of 1,8-cineole (approx 1%) the compound which gives each oil its characteristic scent and provides many of its therapeutic qualities.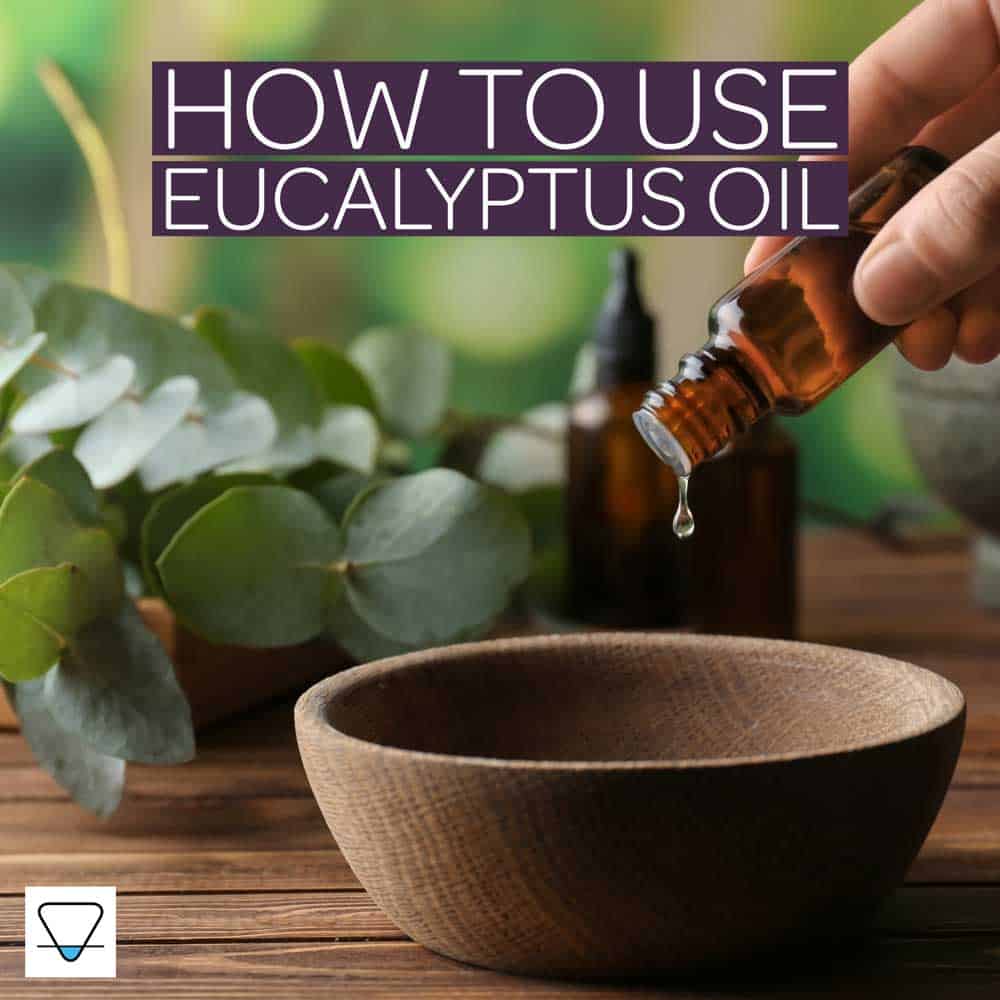 How to use Eucalyptus oil
Try adding a few drops of Eucalyptus oil to a bowl of hot water, to be used as a facial steamer to help decongest blocked sinuses.
Create your own post-workout muscle rub by adding a few drops of Eucalyptus globulous to 30ml of your preferred carrier oil such as apricot, sweet almond or sunflower oil.
To use eucalyptus oil as an air freshener, place some drops of the essential oil onto cotton wool balls and leave them on your radiator.
Add a few drops of Eucalyptus citriodora to a body balm or carrier oil, to create an effective insect repellant.
General safety information for when using Eucalyptus oil
Essential oil is highly concentrated; they should be used sparingly, in small quantities, usually mixed with another ingredient(s) to make the blend less intense. Although some aromatherapists will apply essential oil directly onto skin, we advise that it be diluted with a carrier oil, or lotion / ointment for topical use.
Due to high 1,8-cineole level found in some eucalyptus oil, its use should be avoided near to the mouth, eyes or on sensitive / broken.
Eucalyptus oils with high levels of 1,8-cineole (E.globulus, E.radiata and E.polybractea) should also not be used on, or near the face of children under the age of 10 years of age.
Never take Eucalyptus oil orally as it is toxic.
If you are pregnant, epileptic, or have any other medical condition of concern, you should consult with a qualified aromatherapist before using any essential oils.
We've learnt that Eucalyptus oil has a long history of use in aromatherapy and cosmetics. It is prized for its ability to ease tension, help the respiratory system, increase relaxation, and have a soothing action on sore muscles.
These versatile and powerful plants can be a great asset for you and your family's health-care routine.
When considering the use of eucalyptus essential oil in aromatherapy and cosmetics, it is important to remember that each type has a specific application, and have different health benefits depending on how they are used.
As with all aromatherapy oils, it is always better to seek professional advice should you be unsure how to safely use these oils, whether in an aromatherapy or cosmetic skincare formulation.
How will you using eucalyptus essential oils in your cosmetic skincare formulations? Please get in touch to let us know!