Lemon essential oil is a natural extract originating in the skin and fruit of the lemon. It is a used in a wide variety of applications from aromatherapy treatments to general household products. Lemon essential oil has a high content of antioxidants making it an essential oil often used as an ingredient in cosmetic beauty products such as cleansers, washes, and hair care products.
Lemon essential oils have also been shown to have many aromatherapeutic benefits including a general ability to reduce overall stress levels, stimulate concentration, increase immunity and improve moods. The lemon plant also has purifying properties of antibacterial and antiviral agents which may help kill germs helping to stop the spread of illnesses such as colds or flu, and is used regularly as an ingredient for over the counter cough and cold remedies. It can also be used to disinfect surfaces in the home for example by simply adding a few drops into a spray bottle containing a mixture of water and white vinegar.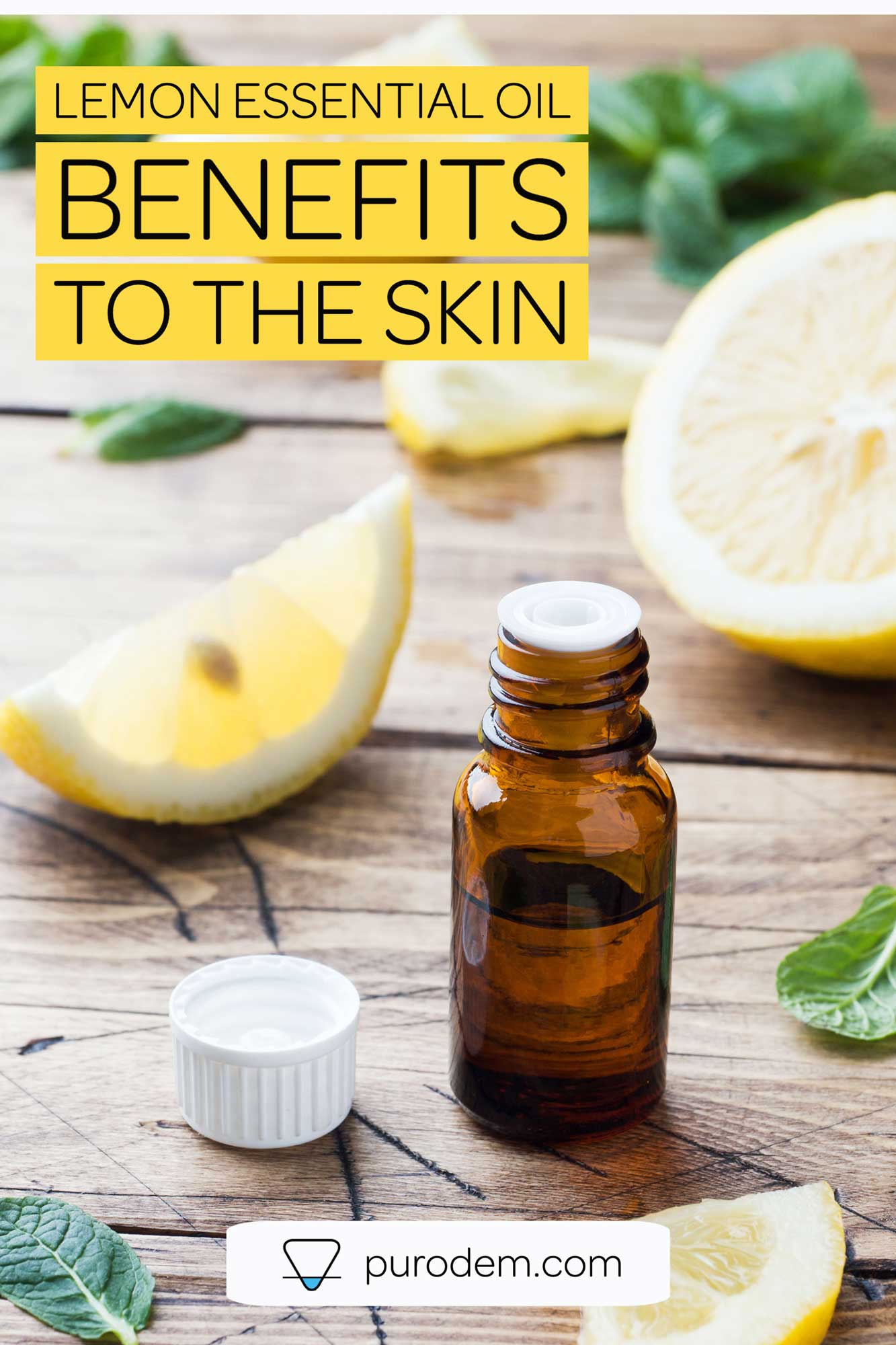 In this article, we'll explain how lemon essential oil can be used in aromatherapy, and as an ingredient in cosmetics, and the health benefits it may have.
The origins of lemon essential oil
The lemon tree is a small evergreen tree that can grow up to five meters tall. It is thought to have originated in the southern region of India, although some accounts counter that fact, stating that it actually originated in China.
The lemon essential oil (INCI: Citrus medica limonum) is derived mainly from the lemon peel and it has a sweet, sharp fragrance. During the winter harvest season the lemon essential oil is extracted from the rind of the fruit through a method of cold-pressing peel production. This lemon extract is then distilled and purified to remove any excess water or other impurities. It is a liquid yellow-green colour with an intense lemon aroma, making this method of extraction the one generally preferred by aromatherapists.
Another way to extract the lemon oil from the fruit is through steam distillation where lemon peel is steamed and the essential oil taken out of the vapour.
To note, lemon oil is not the same as lemon juice! Lemon oil is extracted from lemon peel, and lemon juice is obtained by squeezing the lemon fruit.
The lemon essential oil has a wide variety of uses, and it has been used for centuries by many cultures around the world. As of July 2020, the largest producer of lemons in the world is Mexico, with European production a close second.
What are the benefits of lemon oil for skin?
Lemon essential oil has been found to have a variety of uses for skin, from sunburns and insect bites to wrinkles. Lemon oils can help to refine the complexion especially for oily skin types that are prone to large pores, as lemon has astringent properties.
Lemon essential oil benefits make it a versatile ingredient when used in the cosmetics industry. It has antibacterial, antiviral, anti-fungal, and astringent properties, and so due to its purifying properties lemon oil can be used as an effective ingredient in a variety of cosmetic beauty preparations especially wash off products including soaps, cleansers and hair care products.
The use of lemon essential oil in skincare products can help fight free radicals that may lead to premature aging of the skin. When used as an ingredient in cosmetic skincare formulation, the high number of antioxidants the lemon oil provides (which help fight against these pesky free-radicals) combined with its natural astringent, anti-bacterial properties makes it a very useful essential oil for very oily congested skins on the search for a brighter more clear looking radiance to the complexion.
Its antiseptic and antibacterial qualities also make lemon oil very effective in cleansing small abrasions, cuts and wounds on the skin, and also treating some microbial skin problems. In particular the anti-fungal properties of lemon essential oil can make it an effective ingredient when blended and applied topically in the treatment of fungal and yeast infections such as athlete's foot.
Lemon essential oil is also a great natural, non-toxic way to deter insects such as mosquitoes and ticks when added to a mist or toner to create an organic insect repellant spray.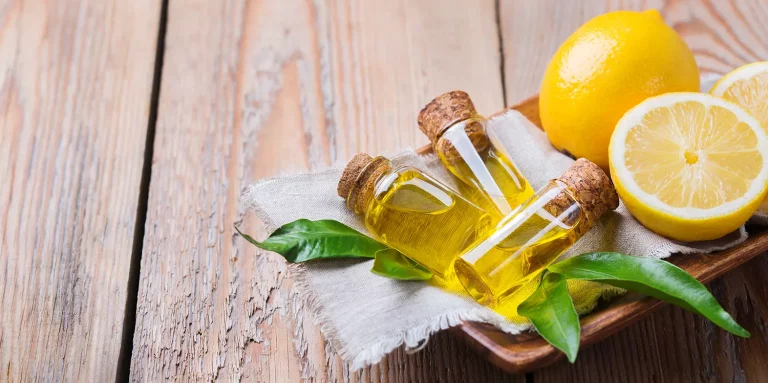 Is lemon oil good for oily skin?
The lemon tree's leaves and fruit contain a high level of citric acid, limonene and pinene, which is highly effective at killing bacteria. This makes lemon oil an excellent ingredient to choose when formulating cleansers, body washes and soaps, as it can help to keep your pores clear while removing the bacteria, something that is important for helping those with acne-prone and oily skin types.
Lemon oil has been proven when blended with other essential oils such as Lavender essential oil and Chamomile essential oils to help calm inflammation and reduce redness. It is also has astringent properties helping to tighten the skin and close pores preventing further blockages from becoming inflamed.
Can you apply lemon essential oil directly to skin?
Lemon essential can only be applied directly to the skin when mixed with carrier oils (such as jojoba oil or olive oil) to dilute the potency of the oil before application on the skin, in particularly the face, neck and chest.
Like many other citrus essential oils (e.g. bergamot essential oil, lime essential oil etc) lemon essential oil is phototoxic, meaning that lemon essential oil may cause skin to become irritated and and/or damaged through sun exposure, or when exposed to other UV ray sources such as sun-beds. The use of lemon essential oil in leave on products should be limited if to used regularly and during the daytime to reduce any possibility of reaction.
What are the benefits of lemon essential oil in a diffuser?
Lemon oil vapour has been used for centuries in many types of different aromatherapy applications. It has many benefits including its ability to help improve mood, relieve feelings of stress, stimulate concentration levels and may increase immunity from some conditions. Lemons oils many characteristic is that it has a bright, fresh, citrusy sharp scent that can help cut through the air to boost your mood and relieve stress.
The lemon plant has natural properties of antibacterial and antiviral agents making lemon oils a good choice when wanting to clear the air and help to fight off those seasonal illnesses such as colds or flu. Whilst giving many people who suffer from seasonal low moods that sunshine burst of energy that we sometimes miss in the darker winter months.
Lemon essential oil has been thought to help relive the symptoms of morning sickness when added to an aromatherapy diffuser. There have also been some interesting studies carried out looking into how lemon essential oil may act as a natural analgesic during aromatherapy treatments.
The results from a study completed in 2009 showed that people suffering from Alzheimer's disease may benefit from lemon essential oil being used in aromatherapy treatments to help improve cognitive function.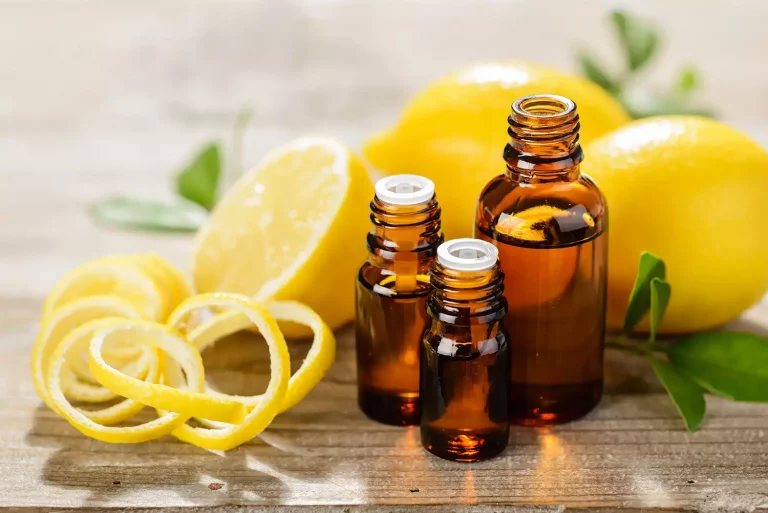 What is lemon essential oil used for?
Try creating a skin cleanser by mixing lemon oil with honey and oatmeal. Made and used freshly when needed this mixture will create a naturally anti-bacterial skin softening and gently exfoliating facial cleansing scrub.
Mix a few drops of 2 drops of lemon and 3 drops of spearmint essential oil into 60ml of coconut milk and then add to your foot spa to create a refreshing soak for tired and hot feet after a long day.
2 or 3 drops of lemon essential oil works well when milled with ground coffee beans to make a natural body exfoliator.
Lemon essential oil can be blended with tea tree and lavender oils, with hazelnut fixed oil to create a natural simple oil serum for acne or skin blemishes.
For use in a room diffuser the 2-3 drops of lemon essential oil can be added to approx 500ml-700ml of water to gently lift the aroma within a room.
Lemon can be mixed with peppermint which creates an uplifting aroma that has been found to help people focus and feel refreshed.
You could also try a blend of lemon oil with other essentials oils like geranium or lavender for a refreshing uplifting scent that is perfect in the morning as an energising aromatherapy treatment.
Lemon oil is also great for cleaning surfaces and objects. It's a natural degreaser that makes it perfect for cutting through food stains on countertops and table tops.
General safety information when using lemon essential oil
As with all essential oils there are some potential of side effects which may occur from using lemon essential oil, so some care should be taken:
All plant essential oils are highly concentrated; they should be used sparingly, in small quantities, usually mixed with another ingredient(s) to dilute the essential oils into and make the blend less intense. Although there is some advise that advocates applying essential oils directly onto the skin, professional aromatherapists would generally advise that all essential oils should be diluted within a carrier oil, lotion or ointment for topical use only. If unsure always reach out to a professionally accredited IFA aromatherapist for any advice we are pleased to help.
As with many other citrus oils such as grapefruit essential oil, lemon essential oil can be phototoxic. This means there is a possibility to develop a skin reaction if lemon essential oil becomes exposed to the sun or UV light (such as from tanning bed lamps).
A small patch test is always recommended of any new aromatherapy product before use. Avoid use around the eye area.
As with other essential oils, if you are pregnant, epileptic, or have any other medical condition of concern, you should consult with a qualified aromatherapist before using any essential oils.
For the avoidance of doubt, we recommend essential oils not be taken orally.
So we've learnt that lemon essential oil is a valuable and versatile ingredient in both aromatherapy treatments and cosmetic beauty products. It's also excellent when used in household cleaning products.
If you are looking for a natural and pure essential oil, then the lemon is an excellent option. The benefits that this citrus fruit includes its versatile use in aromatherapy treatments as well as skin and hair care cosmetic beauty products, making this oil a great asset to use for you and your family's wellness and personal-care routine. It can be used as an anti-depressant, antiseptic, antioxidant, antibacterial agent, cleansing agent for the skin and hair follicles; or it can just be used to add an uplifting fragrance to your cosmetic formulations.
As with all aromatherapy oils, it is always better to seek professional advice should you be unsure how to safely use these oils, whether in an aromatherapy or cosmetic skincare formulation.
So what will you do with your new knowledge of lemon essential oil? Will you be using it when formulating your own skincare formulas? Let us know! We can help by providing more information on how to incorporate these into your formulations or provide some guidance if needed.