Hello! As we are preparing for the holiday season of celebration here in the UK,  we thought we would share with you some ways that essential oils can be incorporated into special tokens and gifts for friends and family. These simple techniques I will demonstrate are both simple and effective, yet give that special personal touch to celebration cards and gifts. Today we will create aromatherapy hanging-decorations, scented greetings cards, plus a couple of other ideas that we thought you may like.
Firstly select the oils you would like to work with, keeping in mind who the gift is for and not to use too many oils at one time…! 2 or 3 essential oils will be enough, remember less is more!.
Some perfect essential oils that have familiar aromas for around this time of year are:
Frankincense
Cinnamon
Clove
Myrrh

 
However, I also like to use oils for their therapeutic benefits, for their anti-viral or antibacterial properties as an example. These essential oils which can be useful at this time of year include:
Pine
Eucalyptus
Lemon
Lavender
Geranium
Fragonia
Essential oils can help to both lift and relax the mood at what can be for some a busy, stressful time of year, and for others a lonely time of year if in recovery, dealing with loss, or away from home.
Firstly, we are going to make some Clay hanging decorations. 
The equipment you'll need includes:
Moulding clay (Air dry white – optional)
Baking paper
Rolling pin
Bowl of water
Cookie cutters
Wooden or stainless steel skewer
Ribbon
Pipette
Your Essential oils of choice
An eggcup holder (optional)
Clear a flat work surface and have a bowl of cold water, rolling pin, skewer, cutters and sheet of baking paper ready.
Open your clay and cut desired amount from the block, wrap the remaining clay immediately to stop drying out.
Slightly wet your hand with water and soften the clay by kneading into a ball.
Place ball onto the baking paper and roll out to desired thickness.
Using the cutters, press the shapes out of the clay and carefully remove and place to one side.
Using your fingers or small brush, with a small amount of water soften the rough edges of the cut out shapes.
Make a hanging hole using the skewer
Decorate the clay in desired pattern using the skewer. The grooved pattern will allow the essential oils you add to soak into the clay more easily.
Put to one side to dry for 24 hrs.
Once dry, take the dried clay decoration and string with chosen ribbon.
Then drop 3-7 drops of chosen essential oil or essential oil blend onto the clay.
The decoration can then be added to a greeting card (see below), or you can make a set of handing decorations can be presented gift wrapped in tissue paper.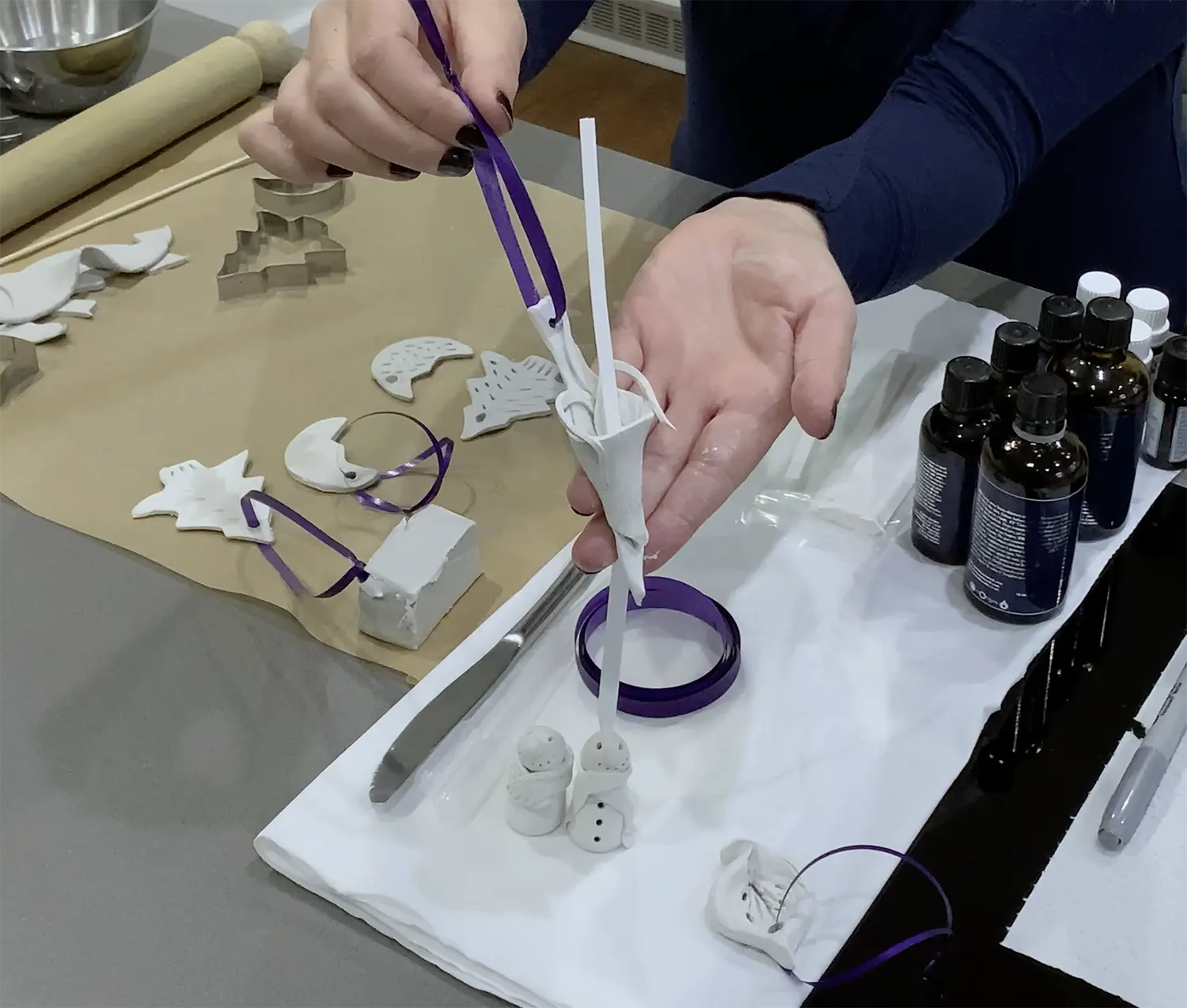 To create a scented holiday greeting card, you'll need:
Blank cards & envelopes
Blank swing ties
Silver / gold permanent marker pens
Glitter
Clear PVA glue
Eggcup holder (optional)
Essential oils of choice
Smelling strips
Take 3 x smelling strips and dip ends into clear glue, and wipe off excess.
Dip the glue end into the glitter.
Carefully add a glue drop onto the desired section of the card, and stick the strips firmly to the card as shown.
Write a message on the swing tag.
Bow the string of the tag.
Glue the tag to the card and smelling strips.
Allow to fully dry.
Select your essential oils. With a pipette add 2 drops of oil to each glitter free end of the smelling strips.
Optional: Add a small cut to the card and tie a hanging decoration to the card as a small token gift.
Wrap with tissue to protect and the place in envelope to send.
Here are a few other things you can make with the clay. I have made smelling strip holders in various designs just to show you how you can incorporate natural aroma into your gifts.
Snowman holders
Hanging petal holders for tree decoration
Plain holders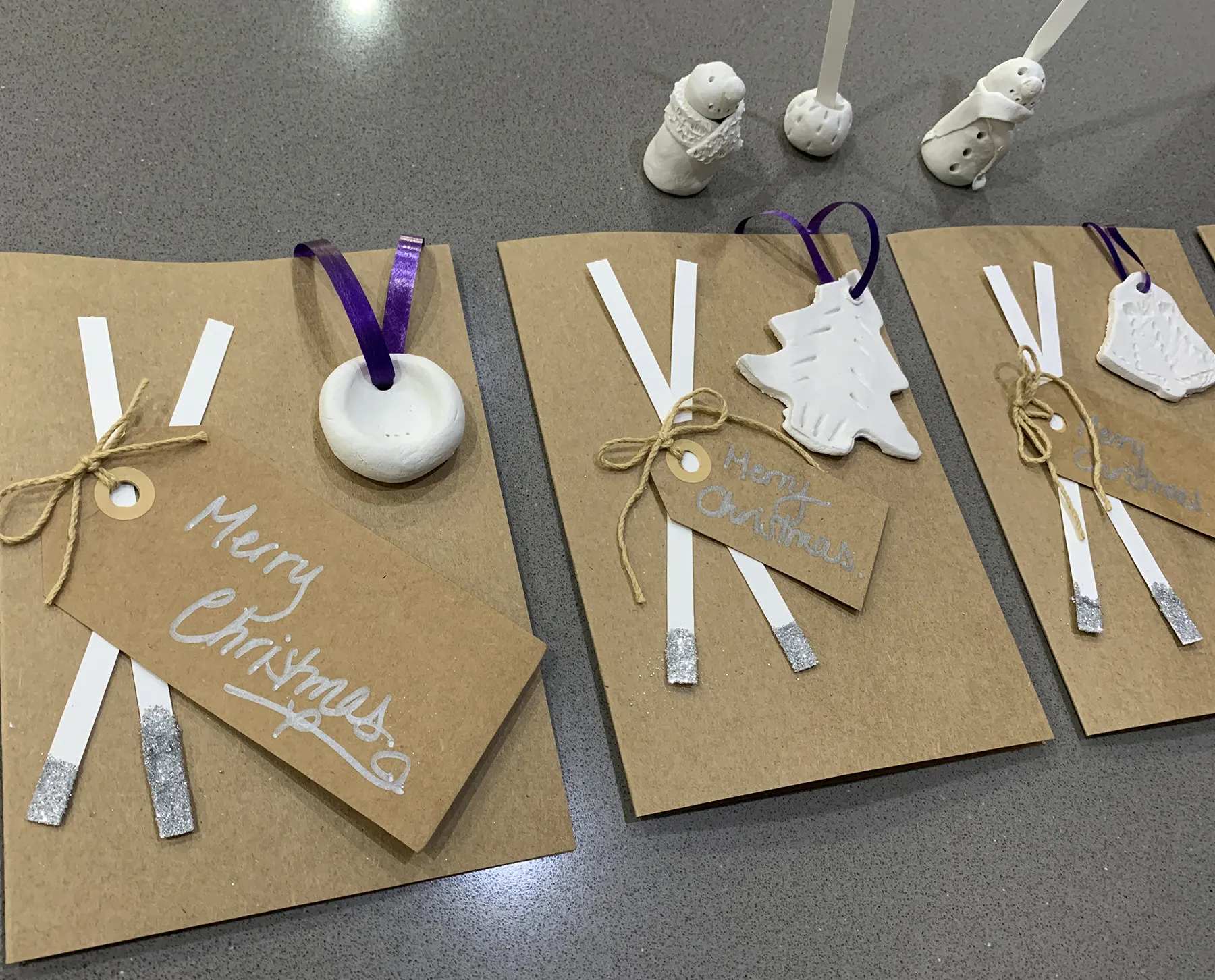 I hope you've enjoyed learning a few simple ways that you can share your love of essential oils safely with others. Helping to brighten their day and bring beautiful scents to the home to help mark times of celebration in a simple and yet effective way.
Our website content is for advertisement, informational and educational purposes only. Purodem does not provide medical advice, diagnosis or treatment. Professional advice should always be sought before using essential oils.