Are you looking for the right aromatherapy course for you to study? 
There are many aromatherapy courses available online, but which one is the best? 
Which course provider should you go with? 
This article will help you answer that question by providing information on how to choose the best aromatherapy course for you depending on your circumstances, and what you want to achieve. We'll also discuss some of the benefits and pitfalls of some of these courses.
We've also included links to other articles that explore the different courses in more detail, specific to different learning outcomes.
Let's dive in…! 🙂
Although essential oils have been used for thousands of years, its popularity has had a resurgence especially in the last 20 years with the growing focus on the natural and organic in all aspects of life. Many people become interested in aromatherapy as a natural form of holistic treatment, and have a wide range of reasons to want to study aromatherapy.
In most cases people fall into two main categories; those using aromatherapy primarily for self-care who are looking for courses to satisfy their general interest in the discipline, and professionals within the field looking to further their essential oil knowledge whilst learning and developing new skills, and where gaining an advanced, accredited aromatherapy qualification may open up new career paths such as becoming a clinical aromatherapist.
'What essential oil course should I take?' is a common question asked by beginners to aromatherapy who are starting their journey with essential oils. There are many courses out there, and there are a few things you should look out for when choosing an essential oil course to study.
When you do a Google search for 'aromatherapy training' or 'aromatherapy courses' you will be presented with a plethora of course options from many course providers, at greatly differing price points. Online aromatherapy courses, distance learning courses, massage courses, clinical aromatherapy courses – the list is endless!
The main search results will often show you advertisements and sale pages for courses advertised as aromatherapy diploma courses, certificate level courses, beginner's DIY skincare courses, and CPD courses.
A friendly word of warning here; just because something claims to be an 'aromatherapy diploma course' or 'certificate level course' doesn't necessarily mean it is a certified aromatherapy course, as not all courses that claim to be offering 'aromatherapy' teach correct and proper traditional holistic aromatherapy. For example, they could be teaching massage using pre-blended products, and as a result won't teach you as an aromatherapy student the basics of essential oils training, or how to blend your massage oils for a client. 
Aromatherapy distance learning courses
Many aromatherapy essential oil training programs are held via online classes by aromatherapy schools and other training providers around the world. Students can enrol on these courses to get a well-rounded basic understanding of how essential oils work, as well as using essential oils on your clients and patients.
Most courses are taken as part-time study, and range from introductory free courses, to low-cost beginners courses, to a fully professional aromatherapy diploma such as our Professional Essential Oils Therapy (PEOT) Diploma Course. Some providers offer CPD courses for existing professionals to continue their further education as part of their continued personal development.
Clinical aromatherapy courses can be delivered either face to face with a tutor, or online via distance learning – which has become very popular given the Covid-19 pandemic! Traditional aromatherapy courses with massage will need the massage element of the course to be taught in person, however, the theoretical elements can be taught online via distance learning. I would avoid any aromatherapy course that is teaching you how to carry out aromatherapy massage via online tutor contact only…!
Some schools offer a mixture of both distance learning courses with set periods during the course for face to face. At Purodem we run our PEOT Diploma as an online course, but included in that are face to face workshops scheduled throughout the year where we invite students to join us for face-to-face tutor contact time.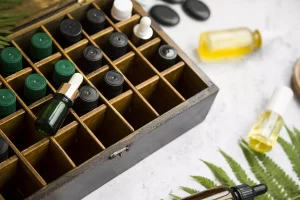 What are your learning objectives or goals?
Before enrolling on a aromatherapy course, you should first ask yourself the following questions:
What is the reason for studying a course?
What is the teaching aim of your prospective chosen course?
Does it meet your study requirements?
Identifying the answers to the these questions are key when choosing a course provider.
For example, if are you only wanting to learn how to use essential oils safely at home on yourself, your study requirements of your chosen course will be very different than someone who is looking to extend their beauty therapy or spa business to include aromatherapy into beauty treatments, or perhaps if you are looking to increase your business revenue streams by creating your own skincare formulations incorporating essential oils.
It's worth noting that for those seeking information on how to use essential oils at home for personal use, many people assume that this means a quick cheap course, or a free course will give you all the knowledge you need, but this is not necessarily true either.
The learning criteria of the course changes greatly if you are a healthcare practitioner such as a nurse, or an established CAM therapist, such as an acupuncturist, chiropractor, or naturopath, and are looking to extend your complementary integrated / alternative medical practice.
Each of these criteria will have different levels of expectation and it is proper to expect more stringent requirements from a course delivered where a professional, regulated qualification is awarded upon successful graduation.
What should you look for in a course provider?
To ensure that the aromatherapy diploma course that you choose to study is the right one for you, please bear these following points in mind:
The course provider should be accredited by an aromatherapy professional body to ensure you are enrolling on a high quality course, delivered to a professional standard. We are accredited by the first and most established governing body, the International Federation of Aromatherapists.
The courses should be run by qualified aromatherapists. The course tutor should be a practising aromatherapist and have years of experience in the essential oils field.
The school you choose to study with should deliver essential oil training that is up to date. Training which is regularly updated ensures that you are learning about the most current essential oils information, techniques and practices.
The course should be flexible to your needs and should fit around your existing work / family commitments by way of study options such as distance learning allowing you an online learning experience to study at your own pace.
The course provider should ensure that the essential oils training materials and resources are comprehensive and that you have access to you course material texts after your course is completed for future reference.
The course you take should include externally assessed practical and theoretical examinations for you to demonstrate your skills as a qualified aromatherapist.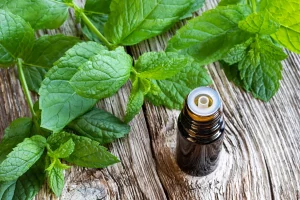 Choosing an essential oil course for beginners
For those looking to use essential oils for personal and household use only, an introductory online essential oils course maybe the most appropriate for you, as these types of short courses are most suited for those who want to learn about essential oils for personal use.
Introductory courses are usually 100% distance learning, or short training programmes with some tutor support. They often come with no formal assessment upon course completion (although you may be offered a certificate of attendance) meaning they are generally not recognised for use within the professional setting, where full confidence in training and insurance is required.
We would always recommend some formal training before beginning the use of essential oils at home or for personal use. However, as a guide there are some important points to consider when using essential oils at home for personal use:
Always use essential oils with care. Beaware of the risks involved when using them on young children or pregnant women (consult an aromatherapist before doing so.)
Store away in cool, dark environment well out of reach of children and animals.
If you're not sure whether a certain oil is safe for aromatherapy, please consult an aromatherapist or other reliable source of information before using it on yourself and/or others in your household.
Don't replace medical advice, or treatments with the use of essential oils. Aromatherapy is called a complementary therapy for a reason.
Use essential oils sparingly. Don't overload your diffuser, or carriers with excessive amounts of essential oils.
We recommend that essential oils not be taken internally.
Want to know more about choosing an introductory essential oil course, including information about the ones to avoid? Please check out our article, Beginners Guide to Choosing an Essential Oil Course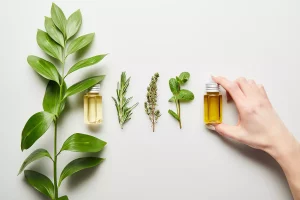 Clinical aromatherapy courses for healthcare professionals
Many healthcare professionals are now beginning to explore the benefits of essential oils as an integrated part of the medical treatment structure. Evidence is highlighting aromatherapeutic benefits to both in complementing the allopathic medicinal approach within a range of treatments, including for example helping patients in recovery from illness, operations and infections as well as showing an increasing number of benefits towards psychological therapies.
If you are an existing healthcare practitioner working in a clinical setting, or if you are looking into becoming a self employed clinical aromatherapist then the course that you choose needs to be accredited by an industry-leading governing body, such as the International Federation of Aromatherapists, to ensure your course meets the national occupational standards (NOS) for aromatherapy, and has Professional Standards Authority (PSA) recognition, as providing a high calibre of qualifications recognised by the wider education and skills sector upon successful graduation from your course.
Clinical aromatherapy course content can also be delivered via distance learning for study at own pace, but should also include regular tutor contact as standard. 
In some instances previous experience, or prior learning my be required before enrolment.
There are some important points to consider before choosing an aromatherapy course provider for training to use aromatherapy within a professional clinical setting:
Is your chosen course provider recognised by your professional governing body?
Are there any prerequisites or previous qualifications required before enrolment?
Is the course accredited by a recognised aromatherapy governing body?
What is the education level, or standard that the qualification is set at?
How in depth is the coursework? How many essential oils, and carrier oils are included in the course?
Do you have regular tutor support to assist learning and progress your personal development?
Is the course externally moderated and assessed to underpin confidence in the course content?
Want to know more about training to become a clinical aromatherapist? Please see our article: A Clinical Aromatherapy Course for a Professional Qualification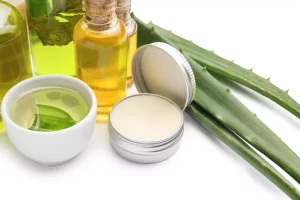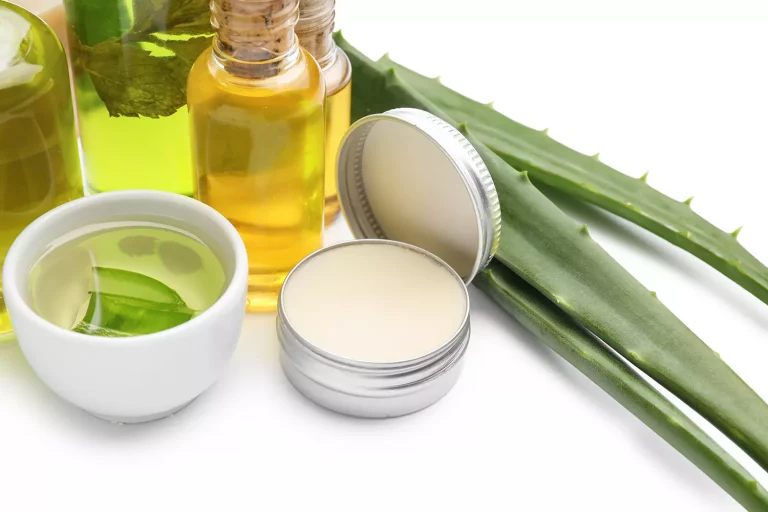 Aromatherapy courses including aromatherapeutic skincare formulation
The application of aromatherapy essential oils can take place in several different ways.
Olfaction Therapy / Limbic System / Sense of Smell
Topical Skincare Applications / Derma-care
Skincare formulation, and making your own skin care products has become hugely popular, with more and more people starting to make their own skincare products. Whether it be for personal and family use, to create a skincare range for general sale, to make skincare products for use in your beauty salon or spa, or to enhance the services you offer within your clinical practice.
As a skincare formulation course provider, one of the main questions we receive when teaching students the art of skincare formulation, is about how to use essential oils in their products and topical applications:
What essential oil works best for acne?
Which essential oil would you add to an anti-aging night cream?
Which fats and essential oils would you use on psoriasis?
And so on…
By combining a thorough knowledge of essential oils and skincare formulation, students are then able to make educated decisions about the use of essential oils in their own skincare products, both for personal use and for general sale. For example, our PEOT Diploma Course covers the product making modules from our skincare formulation courses giving our professional aromatherapy students these skills.
Courses combining skincare formulation and aromatherapy can be delivered via distance learning for study at your own pace and in your own time, but they should also include full tutor support and assessment of the products that you have made as part of your coursework.
A few points to consider before choosing an aromatherapy course provider for use in a professional setting:
What specialist knowledge does the course provide to give you a competitive edge against competition in your field? For example, does the course teach you the relevant skills to create therapeutic cosmetic skincare products to sell to your clients as part of their treatments, increasing their wellness experience, and your bottom line?
Does the prospective course teach you about GMP, and regulations including those that govern the use of essential oils and their inherent chemical constituents some of which are allergens?
What course materials are required, and where can you buy them?
Is your chosen course provider recognised by the aromatherapy governing body?
Does the course go into detail regarding the history of holistic aromatherapy?
Does the course teach you how to choose oils for different applications, and how to blend them for your clients?
Curious to know more? Learn more about Combining Aromatherapy with a Natural Skincare Course – particularly for beauty and spa businesses.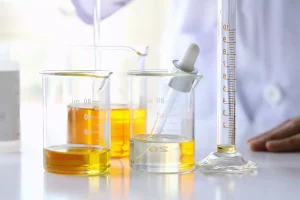 Aromatherapy accreditation
With the plethora of courses available at the end of a Google search, choosing the right aromatherapy course can be a daunting task. The accreditation of the courses on offer is important to identify those courses of a high quality from providers that have undergone stringent checks to ensure the quality of the course that they deliver.
There are heavily discounted aromatherapy courses available out there that state they have full accreditation. However, when you scratch the surface of who has awarded this 'accreditation' it can come from organisations with none or very little historical background in aromatherapy, and in some cases are directly linked with the course provider themselves.
So why choose a course accredited by the International Federation of Aromatherapists? The IFA curriculum is designed by aromatherapy experts and includes modules on safety, legal issues, essential oils therapy, anatomy & physiology, and professional practice. Founded in 1985 the IFA sets the gold standard for aromatherapists across the world. They are the first recognised governing body set up in the UK, representing professional and clinical aromatherapists around the world. The qualifications that the IFA award are accepted internationally as a benchmark standard ensuring quality and safety standards are met.
The IFA is a not-for-profit, charitable organisation, and does not sell any essential oils; it works with the sole aim to further the safe use and awareness of aromatherapy in all its forms for personal, emotional, physical, and psychological wellbeing. To ensure safe and high standards of graduates from IFA schools they have written high quality courses devised by industry experts, and the training providers who run their courses go through a rigorous approval process to demonstrate commitment to offering learners a high standard of training.  
Why choose courses accredited by the IFA?
What do you receive as a fully qualified member of the IFA?
Who are the Professional Standards Authority (PSA) and why their accreditation matters?
Want to know more? Learn more about the International Federation of Aromatherapists, the Professional Standards Authority & Aromatherapist Certification & Course Accreditation
Are you ready to get started on your aromatherapy journey?
We'd like to welcome you to join us on our IFA accredited Professional Essential Oils Therapy (PEOT) Diploma Course.
Our course is designed to develop knowledge and understanding of the clinical application of essential oils, and provides the learner with the skills to provide advanced therapeutic treatments within a more clinical setting and the skills to create your own product line.
Pitched at an advanced level and devised by industry experts, this comprehensive essential oils aromatherapy course is unsurpassed by others. It enables you to work confidently with 90 essential oils and 34 carrier oils and how to use scents especially for emotional and mental benefits, which help in the treatment of illnesses of psychosomatic origins.
This course will develop your product formulation skills to levels no other course professional aromatherapy accredited course provider has done, while expanding your knowledge of essential oils therapy to an advanced level. 
We see the importance in teaching the next generation of professional aromatherapists how to not only formulate and make the full range of dermal remedies from cream emulsions, to hyaluronic gel bases and aroma-shampoos within one comprehensive course, but also learn the significance that every choice of ingredient chosen within in the formulation, whether making a cream lotion or a hydra gel, is as important to the overall therapeutic affect as that of specially chosen essential oils blended into it.
The course is strictly taught from the IFA syllabus which has clear aims and learning outcomes and incorporates the National Occupational Standards (NOS), Qualifications and Credit Framework (QCF), is P.S.A. (Professional Standards Authority) accredited and surpasses the Aromatherapy Core Curriculum requirements.
Clinical Aromatherapy with Skincare Formulation: Available exclusively to our PEOT Students
As part of our PEOT clinical aromatherapy aromatherapy diploma, we have included the key modules from our making natural skincare courses to provide the learner with skincare formulation skills across the four-core cosmetic skincare product families: cream emulsions, anhydrous formulas (balms and salves), gels, and surfactant-based products, as well as extending your learning into advanced formulating techniques and performance ingredients such as AHA's, CBD isolates, and Co2 extracts.
The skincare-specific lessons that we have included in the course cover all aspects of skincare formulation and product manufacture, teaching you the necessary skills required in order to make your own organic skincare products suitable for personal use, and also for the skin well-being of your therapy clients.
our complete guide to choosing an aromatherapy course
Our website content is for advertisement, and informational purposes only. Purodem does not provide medical advice, diagnosis or treatment. Professional advice should always be sought before using essential oils.