Essential oils are concentrated plant extracts that retain the natural smell and therapeutic benefits of their source. They are mostly liquid at room temperature and evaporate easily, which makes them popular as fragrance components in perfumes, cosmetics, and soaps. A few can be very thick and firm up when they get cold. In almost all instances, you should only use diluted essential oils on your skin using a carrier oil.
So much more than just fragrant, these oils have long been used for their healing properties. Modern scientific study is beginning to show that these "old-fashioned" remedies are actually effective against a host of skin concerns, pain, inflammation, stress and anxiety.
Are essential oils good for skin care?
Many of them have been used for centuries in natural skin care and the knowledge has been gained from the real-life experience of using them. Essential oils are known for their therapeutic benefits. They can help to improve your mood, alleviate stress, and promote relaxation. But did you know that they can also be beneficial for your skin?
They all have many benefits, including being anti-inflammatory, antibacterial, and helping to reduce scarring. It is important to know how to use them correctly, as when they are abused, they can also cause skin irritation. When used properly and safely, you can see a big improvement when you incorporate essential oils into your skin care routine.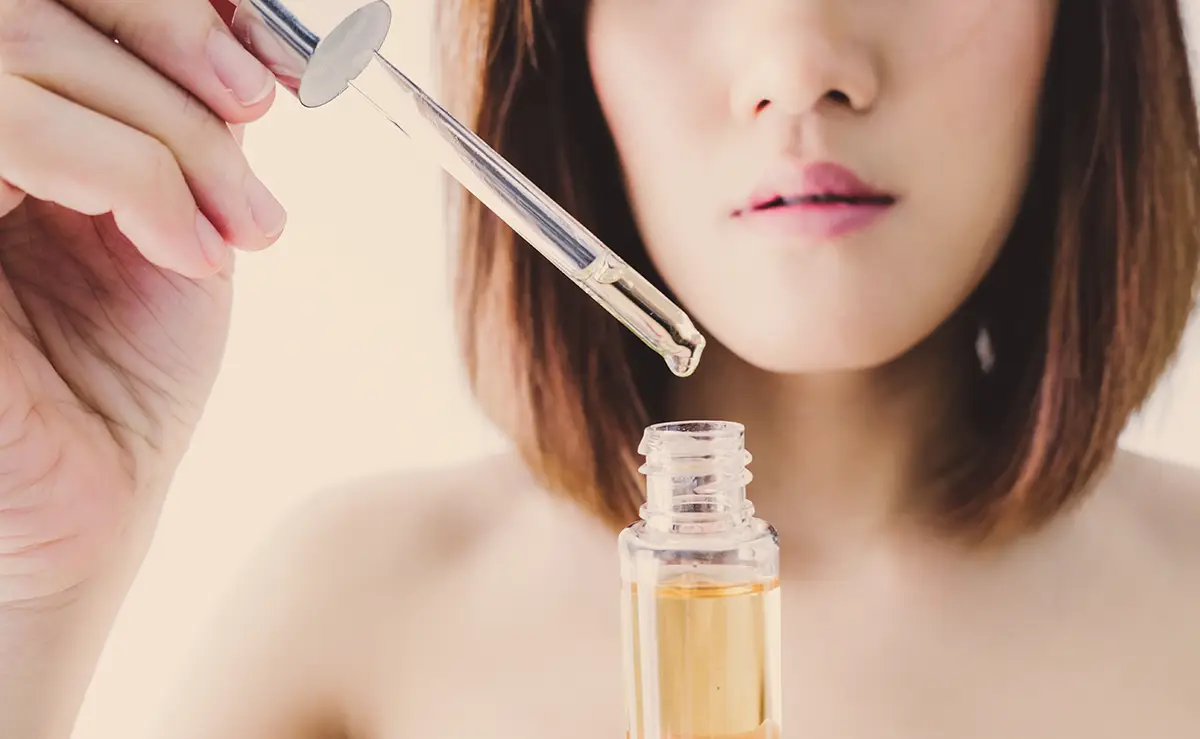 The benefits of using essential oil for different skin types
If you have normal skin, congratulations! You have the type of skin that is not too oily and not too dry. Normal skin is well-balanced and glows. Even though you don't have any major skin concerns, you still want to take care of your skin and give it the nourishment it needs. One way to do this is by using essential oils along with selected plant oils to dilute them.
Essential oils for skin use need to be diluted in vegetable oil first. Normal skin still needs looking after and with the right knowledge, you can protect your skin for decades to come.
Sweet Almond Oil is often overlooked, but the reason it is so commonly used is that it is so soft and gentle. It's actually a very nutritious and functional oil for many skin types.
Argan oil is suitable for all skin types and glides on beautifully with no greasy after-feel. It's rich in essential fatty acids and other nutrients to protect and condition your skin. Use either of these plant oils to add your essential oil to.
Orange oil is certainly uplifting and can easily put a smile on your face. Even more to smile about is that it acts as a tonic to your skin by improving its clarity and radiance. It detoxifies your skin and reduces the size of large pores.
Ylang Ylang keeps your skin in tip-top condition. It prevents dryness and at the same time, balances excess sebum production. Use it sparingly though, as it has a very heady, floral aroma that can be overwhelming.
Sensitive skin can be a challenge to take care of. It is necessary to reduce inflammation, redness and irritation, so using very gentle vegetable oils is a priority.
Apricot Kernel oil is one of the softest oils there is and can even be used directly on a baby's skin. This combines so well with Evening Primrose Oil, which helps to protect your skin and condition it to be more resilient. It contains GLA (Gamma Linoleic Acid), which has a strong anti-inflammatory effect.
Lavender Essential Oil is so well known for its soothing and relaxing properties, but were you aware of how many variations of Lavender essential oil there are? Our expert training modules enable you to learn which varieties to use for different skin conditions.
Other essential oils that are suitable for use on babies are, of course, a good choice if your skin is reactive. Pure essential oils should also be used at a lower dilution for babies and this can also be of benefit to your delicate skin type. Roman Chamomile essential oil is superb to use in small amounts as it soothes irritated skin very fast. It nourishes the skin and helps to make it more resilient.
If you have dry skin, you'll want to use an oil that can help to moisturise your skin. Bearing in mind that essential oils should always be diluted in vegetable oil, it makes sense to choose an oil that will help with dry skin as well.
Avocado Oil is a great choice as it is so nourishing and locks moisture into your skin. Some people will find it perfect, and it can be used just as it is directly on your skin. If you find it a little heavy, then blend it with some Cucumber Seed Oil, which is also great for rehydrating your skin and feels much lighter to the touch.
Geranium is one of the best essential oils for skin that is too dry. It balances out sebum production so don't be surprised when you read it is also good for problem skin as well.
If your dry skin feels tight, then Neroli essential oil will really help to condition your skin and is amazing to use on dehydrated skin. It will improve the skin texture and also blends very well with Geranium essential oil. It is a little pricey, but a little goes a very long way.
As we age, our skin changes. It becomes drier, thinner, and less elastic. Essential oils can help to address these changes and improve the overall appearance of mature skin.
For vegetable oils, you should choose an oil that will not drag on the skin or be too heavy as this can accentuate lines and wrinkles. Pomegranate Seed Oil has amazing anti-aging benefits by boosting collagen production and helping to reduce the appearance of wrinkles and fine lines.
However, such a small amount is needed to be effective that you could add another carrier oil such as Rosehip Oil which contains naturally occurring Vitamin A. The oil will also keep your skin soft and supple.
Frankincense essential oil will quickly become a must-have in your skin care routine. Along with Rose Oil which is often considered the best essential oil, Frankincense is deeply nourishing for mature skin and helps to keep fine lines and wrinkles at bay.
Carrot Seed oil doesn't sound very exotic, but it is very effective at reducing fine lines and wrinkles around the eyes. It is often the first essential oil that we think of for mature skin. It has an even greater effect when combined with other essential oils like Elemi. Add some Galbanum to the mix, and you have got a top-notch essential oil to make your laugh lines not so funny.
Another oil you will love is Rosemary Verbenone essential oil. This one is the gentlest of all the Rosemary essential oil varieties, and it effectively protects aged skin, even skin with sun damage! You might be surprised to learn that it will also stimulate hair growth as well. So many essential oils have multiple functionalities that don't always seem connected.
Acne is a very common condition that can be difficult to treat, and it's important to start with the right carrier oils to put your essential blend into.
Pumpkin Seed Oil is rich in Omega-6 and Omega-9 essential fatty acids. On top of that, it contains Zinc, which is wonderful for repairing damaged skin.
Jojoba Oil is very similar to the sebum that naturally occurs in our skin. When the sebum clogs up pores, you get blackheads as the sebum oxidises. Jojoba gently dissolves away the sebum and blackheads without making your skin more oily.
An essential oil blend would have to include Tea Tree Oil, as it is one of the few oils that can safely be used neat on your skin. Add a drop to a cotton bud and apply to spots and pimples. It also helps to eliminate the bacteria that cause potential infection.
Lemon essential oil is wonderful to use in blends for greasy and spotty skin and, together with the Tea Tree oil, Pumpkin and Jojoba, you will have a really effective combination.
If you have oily skin, you know how it goes. Your face is shiny by midday, and you're constantly fighting the good fight against breakouts. While it may seem counterintuitive, using oils for oily skin can actually help control excess oil production and improve your complexion. When used topically, they can help heal blemishes, balance excessive sebum production, and soothe irritated skin.
Hazelnut Oil has a slight astringency that balances sebum production to help reverse oily skin from being a problem. It is excellent when combined with Thistle Oil because Thistle oil (also known as Safflower Oil) has high levels of GLA (Gamma Linolenic Acid) which rejuvenates your skin. It does not block the pores and improves your skin tone and texture.
There are a few essential oils that are particularly beneficial for oily skin types. Geranium was mentioned earlier and in this case, it will also help to balance the overproduction of sebum. Make an essential oil blend with Palmarosa essential oil, and you have a winning combination.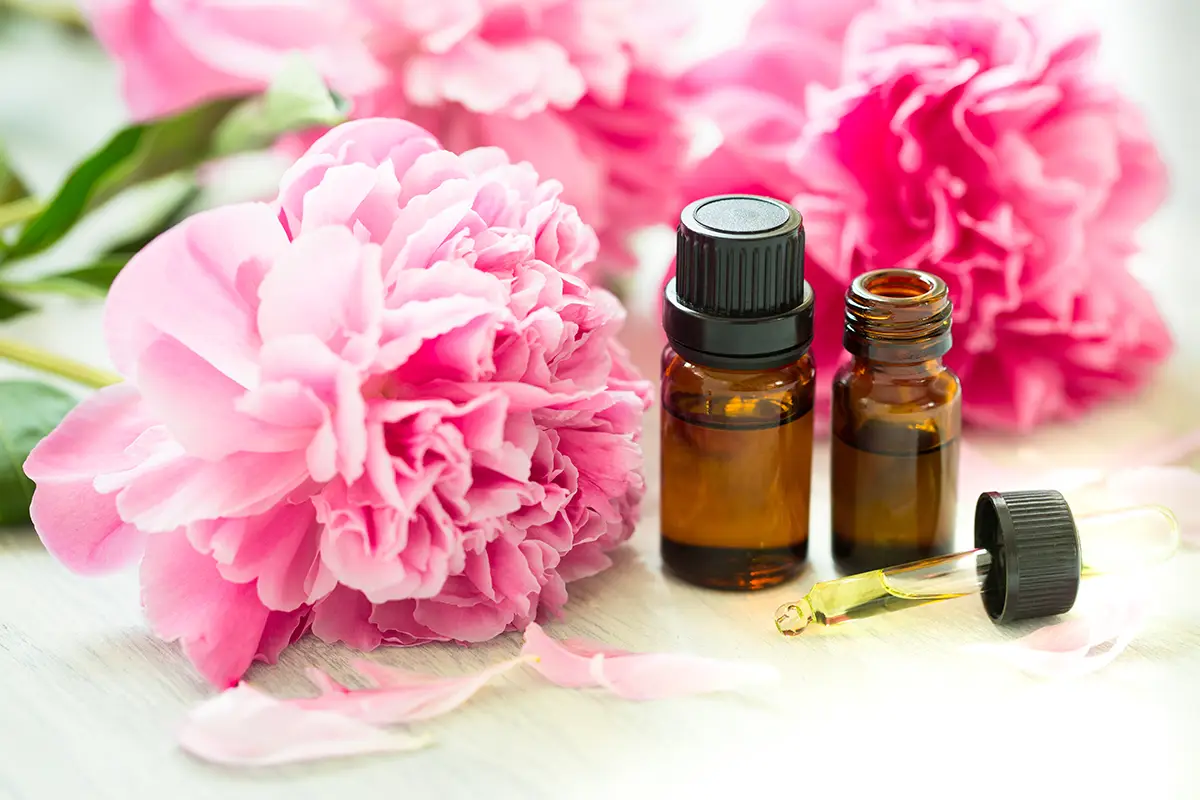 Other uses for essential oils
When it comes to keeping insects at bay, essential oils are a natural and effective solution. Not only do they smell nice, but they can also help keep your skin moisturised while you repel bugs. Of course, we will teach you what strength to use them at.
Citronella is one of the best essential oils for repelling mosquitoes and other biting insects. Lavender essential oil is great for keeping mosquitoes and other flying insects away. Simply add a few drops to water in a diffuser to keep insects away from where you are.
Peppermint oil is another effective insect repellant that can also be diffused, and of course, Lavender is another good choice. Actually, the Peppermint and Lavender combined smell amazing! That is just one of the advantages of using natural oils.
Lemongrass oil is one of the essential oils that is high in Citral and Geraniol. Insects hate this and stay well clear.
If you want to use any of these insect-repellant oils on your skin, they must either be solubilised to use in a water-based spray, added to a gel, or blended into an oil, cream or lotion formulation.
If you're looking for a natural way to heal scars and blemishes, look no further. Many essential oils are packed with anti-inflammatory and scar-relieving properties that can help improve the appearance of your skin.
Again, start with your vegetable oil such as Rosehip Oil. The natural Vitamin A content is ideal for reducing scar tissue and regenerating the skin. Shea Butter oil is also a good choice. Add some Frankincense essential oil or some Helichrysum for skin repair and prepare to see how well the skin cells start to regenerate.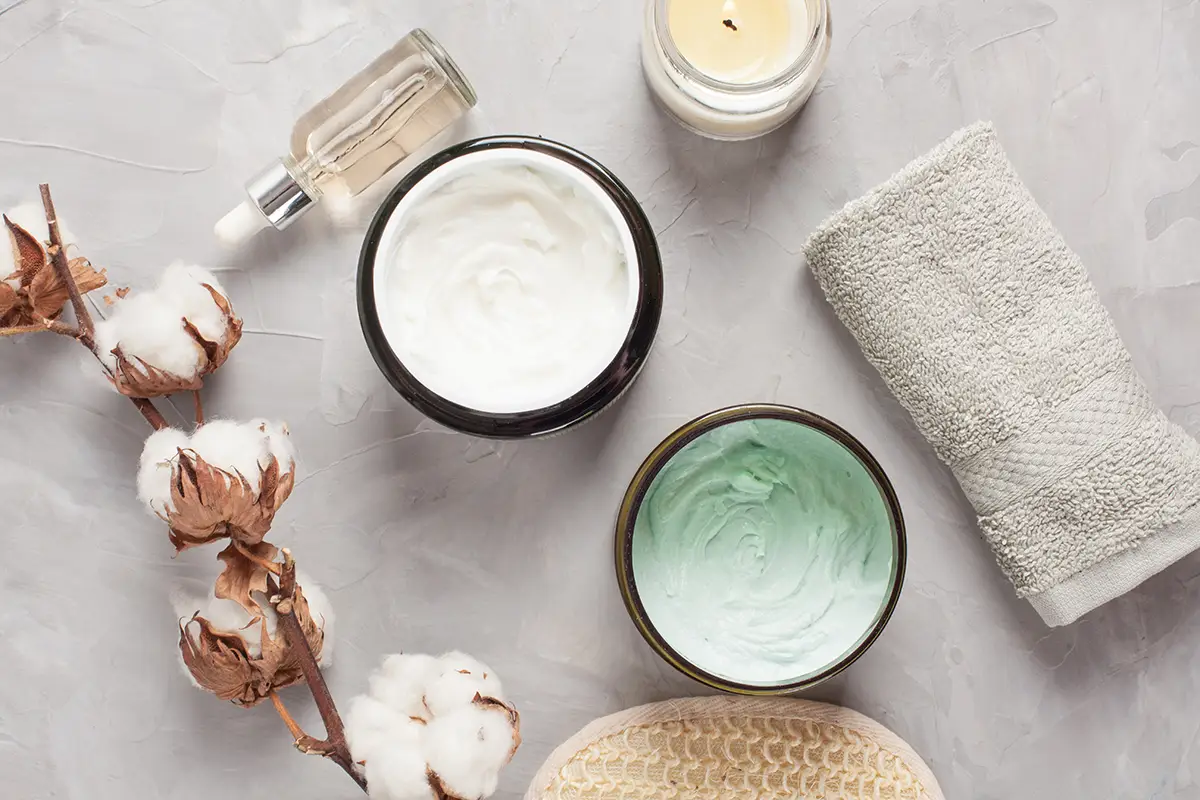 Frequently Asked Questions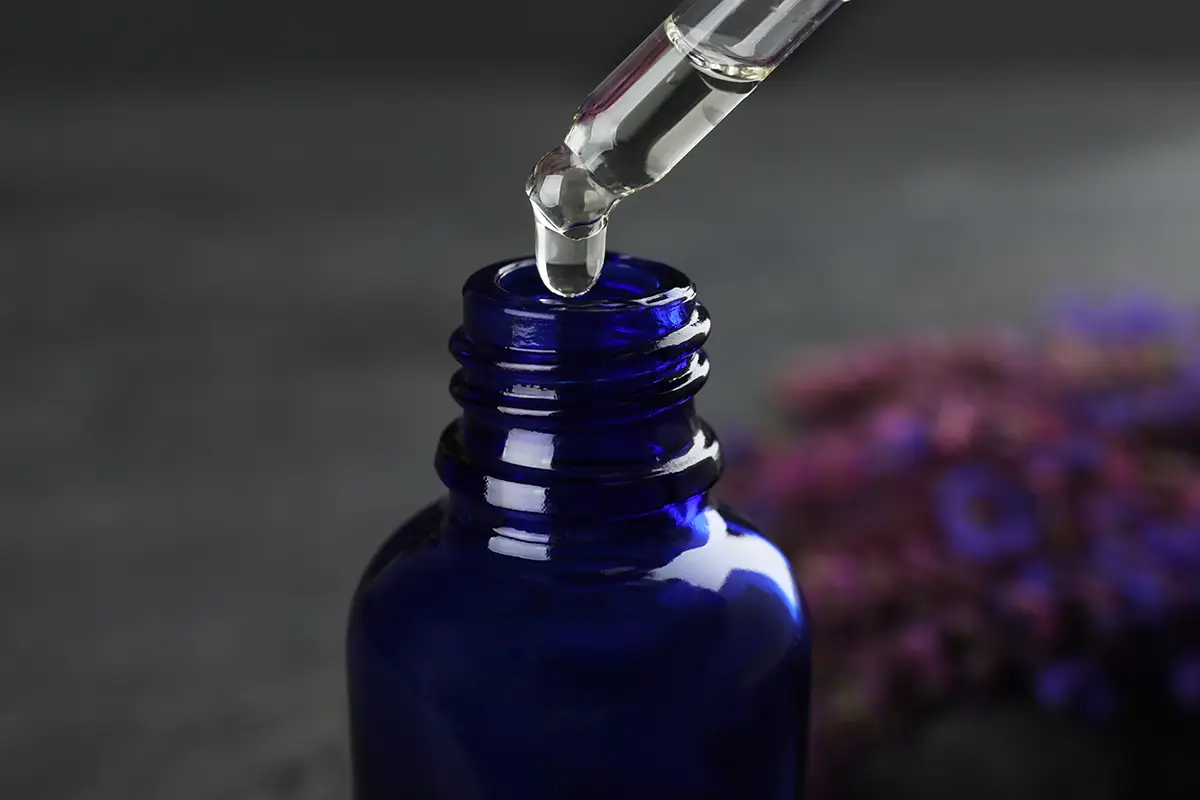 If you're interested in using essential oils for skincare, it's important to understand the basics of essential oil safety. Here are a few things to keep in mind:
Essential oils are very concentrated and should be used sparingly. A little goes a long way!
Be sure to dilute essential oils with a carrier oil such as Coconut Oil before applying them to your skin. This will help prevent irritation.
Do a skin patch test on a small area of skin before using an essential oil all over your body. This will help you gauge whether you may be allergic to the oil.
When using essential oils around children or pets, be sure to do your research and use only safe, diluted oils. This is especially important when you use a diffuser as your pets will also be inhaling essential oils.
In general, essential oils are safe for most people when used properly. However, there are some people who may be more susceptible to adverse effects such as pregnant women and those with sensitive skin. If you have any concerns, it is best to consult with a healthcare professional, PEOT, or professional aromatherapist before using essential oils.
Using essential oils for skin can be a great natural alternative to conventional skin care products. When used correctly, they can help to improve your skin's health and appearance. If you're interested in trying essential oils, be sure to do your research and purchase high-quality oils from a reputable source. And always remember to dilute your oils before applying them to your skin!